Ranil's invitation to join UNPa joke, says Fonseka
Posted by Editor on July 23, 2012 - 7:58 am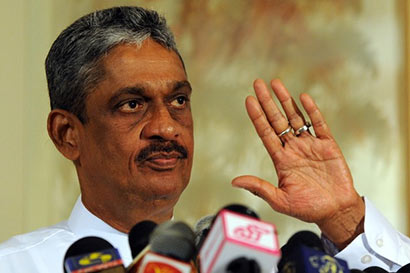 General Sarath Fonseka yesterday said that he would not join any political party, but would form his own, the Democratic Party and work towards forging a common opposition platform to defeat the government.
Speaking to The Island from Kandy, where he was attending some public events, Gen. Fonseka said that he was confident of obtaining the support of many opposed to the present UPFA government and its dictatorial methods.
Gen. Fonseka dismissed as a joke the suggestion by the UNP Working Committee last week that he join the UNP after paying a membership fee of Rs. 20.
Tiran Alles would be the Secretary of the new party to be formed, Gen. Fonseka said.
Democratic National Alliance (DNA) Parliamentarian Tiran Alles said that they had not even thought of replying to the bunch of 'jokers' who proposed at the UNP Working Committee meeting last week, that Gen. Fonseka join the UNP after paying a Rs. 20 membership fee.
He said there had been no official communication from the UNP to Gen. Fonseka.
Alles said that the UNP leaders except a few like Deputy Leader Sajith Premadasa had never so much as telephoned General Fonseka since his release from jail on May 21. Neither he nor any other member from the DNA had spoken to President Mahinda Rajapaksa or the government to have Gen. Fonseka's civic rights, pension etc. restored, Alles said.
UNP reformist, Lal Perera, Secretary of the Movement for the Protection of the UNP and its Trade Unions, told The Island yesterday that party leader Ranil Wickremasinghe had no chance at all of defeating President Rajapaksa at any presidential election. Wickremesinghe and his backers in theUNP Working Committee had changed the party constitution undemocratically, Perera said. He asked what moral right Wickremsinghe had to be critical of President Rajapaksa for changing the country's Constitution to contest for a third term.
Courtesy: The Island
Latest Headlines in Sri Lanka