Ravi Karuanayake forays into transport business
Posted by Editor on March 26, 2011 - 6:39 am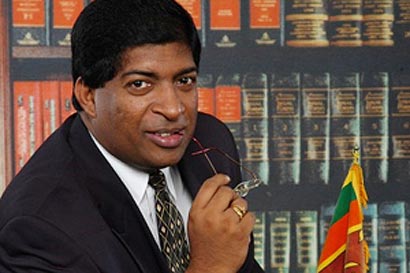 One of Sri Lanka's leading politicians and former Trade Minister Ravi Karuanayake has forayed into logistics with the vision of making Goldstar Transport Lanka headed by him, country's leading transport operator and the preferred choice for customers.
With this mission in mind, Goldstar Transport Limited, one of the largest transportation companies in the UK, proudly announced a joint venture between them and Global Transportation & Logistics (Pvt) Ltd to form Goldstar Transport Lanka (Pvt) Ltd on March 15, 2011 at Global Park in Seeduwa.
The Chairman of Goldstar Transport Lanka, Ravi Karuanayake, having started his career in the freight forwarding industry 22 years ago, also ventured into logistics 11 years ago .This lead to the opening of the global park, which is a Sri Lanka based Logistics Centre and 'Hub' fully bonded with state-of-the-art finishing facilities to the Apparel Industry. It is today a premier warehouse in the region, providing customers the necessary quality standards that are described as being par excellence by their worldwide clientele that includes at present many leading global brands.
Addressing the gathering at the launch of Goldstar Transport Lanka Karunanayake stated that he considered this a momentous occasion and a great opportunity to trail blaze a new transport culture in Sri Lanka. He said that Sri Lanka is well placed in both the shipping and aviation routes and this provides a tremendous opportunity to the transportation industry.
He went on to say: "Today, we need to have wider perspectives and use smarter initiatives to put Sri Lanka back on the world map. With the vast potential from aviation to navigation and from cargo transportation to logistics, we must aim to make Sri Lanka a giant hub and attract new business to become a global hub in logistics services."
Also speaking on the occasion, Director Matthew Ashworth said he is extremely excited with this new venture and strongly believes that Goldstar Transport Lanka will make a big impact in the transport industry in Sri Lanka. Giving an insight into their UK operation he explained that Goldstar Transport Ltd was formed in 1998 by a management team that had a proven track record in large volume, multi-customer container transport.
They currently have an annual turnover in excess of £60 million and regularly handle over 900 movements per day for a varied customer base from major shipping lines to smaller niche market operators specialising in refrigerated soft fruits, footwear and class one fireworks. Goldstar Transport's new Traffic System offers direct customer job input, online tracking of delivery's and real time updates of delivery progress. Goldstar Transport has large volume, operating for all the major freight forwarding companies in the world Having an intimate knowledge of customers today and their ever changing requirements, the Sri Lankan operation has a quality fleet of Mercedes Benz prime movers not previously seen in Sri Lanka The company has superior systems and technology such as IT systems that enable electronic data transfer, online real-time tracking of jobs and instant online POD facility providing customers accountability and attention to detail. With their biggest strength being their professional and dedicated staff, the company is confident by combing the strength and strategies of both organisations, they can become one that is on the forefront of the transportation industry in Sri Lanka.
The transport and logistics sector contributes 10% to Sri Lanka's economy and accounts for 12-14% of employee participation out of the total workforce. With the post war economic boom in Sri Lanka, an expansion in transportation will boost economic activity and create more job opportunities and additional value to the country.
Courtesy: The Bottom Line
Latest Headlines in Sri Lanka