Ready to face trial: Fonseka
Posted by Editor on September 20, 2015 - 8:22 am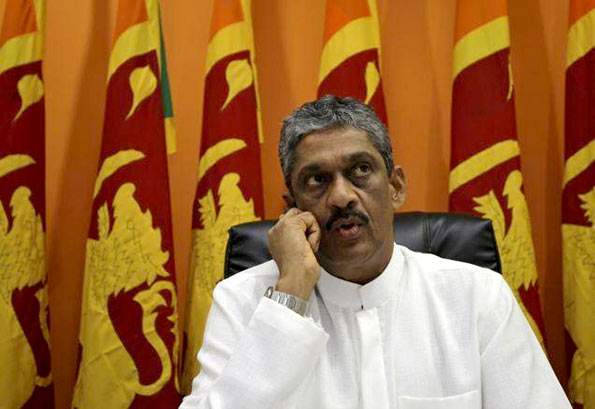 Democratic Party founder and former SLA Commander Sarath Fonseka on Saturday, offered himself to face a domestic court of law on allegations against military operations during the Eelam War.
In an interview with The Hindu, Mr. Fonseka, who was conferred by the present regime with the highest military rank of Field Marshal, said "if there are allegations against military operations, I am ready to face anybody and present the right picture. There is no problem. My conscience is clear."
He was responding to a query whether he was wiling to face enquiry in the wake of the publication of a report of the Office of the United Nations High Commissioner for Human Rights Investigation on Sri Lanka (OISL).
Mr. Fonseka, who headed the SLA between December 2005 and July 2009, also wanted those who were his colleagues in the Army to cooperate with the authorities concerned.
He said that if credible evidence was available, investigation should be done; due process of law be followed and those found guilty be punished.
"If we are sincere, let us follow the proper legal procedures. We do not have to cover up [anything] or hush up."
At the same time, he brushed aside the finding made by the OISL that "incidents of sexual violence were not isolated acts but part of a deliberate policy." Mr. Fonseka asserted that "these things never happen in an organised manner with the knowledge of superiors." He maintained that "it is not part of our thinking or tactics to do such things."
The former Army Commander recalled that when the Indian Peace Keeping Force (IPKF) was here in Sri Lanka between July 1987 and March 1990, there were "enough complaints [against it]." He added that a section of those who went through detention during the Eelam War must have indulged in "propaganda" against the Army.
Nevertheless, he did not reject all the findings made by the UN report. He favoured a domestic investigation mechanism. To support this point, he also referred to the death sentence awarded by the High Court of Colombo in June to a soldier of the SLA in connection with a murder of eight internally-displaced Tamils in Northern Province in December 2000.
While he was for taking the help of foreign expertise in legal matters, Mr. Fonseka said "being transparent [in the entire process] is better for our credibility."
(The Hindu)
Latest Headlines in Sri Lanka