Record for Sri Lankan arrests
Posted by Editor on August 1, 2012 - 1:19 pm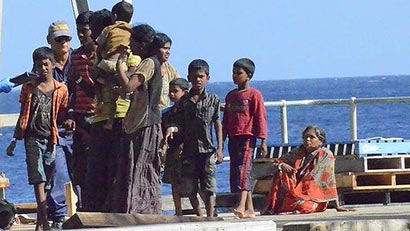 Refugees from Sri Lanka arrive for processing at Christmas Island last month. Photo: Sharon Tisdale
Sri Lanka's navy arrested a boatload of people heading to Australia and raised the number of would-be illegal immigrants detained this month to a record 500, according to an official.
A fishing trawler carrying 31 people was intercepted off the island's western coast on Saturday, and another 20 were arrested on shore ready to board the boat, the navy official said.
"We had the highest number of arrests this month," said the official, who asked not to be named. "We stopped eight trawlers off the eastern coast and three off the western coast as they set off for Australia."
The official said that compared with 200 people arrested between May and June, the July arrests were the highest on record over a month.
Most of the would-be illegal immigrants had paid up to 300,000 rupees ($A2220) as an advance for the perilous journey and were to give an additional 400,000 rupees on reaching Australian shores, the official said.
The boat people had been handed over to the police Criminal Investigations Department for questioning.
Most wanted to claim political asylum in Australia, the official said.
Australia is facing a steady influx of asylum seekers arriving by boat, many using Indonesia as a transit hub, and boarding leaky wooden boats.
But there has been a recent spike in the number of attempted crossings from Sri Lanka.
Meanwhile, a second boatload of asylum seekers was intercepted on Saturday, Border Protection Command said. A boat carrying 49 people was intercepted north-west of the Cocos Keeling Islands. It was intercepted by ACV Hervey Bay after being detected by a RAAF maritime patrol craft.
The passengers were transferred to Australian government authorities on Cocos Island and will be sent to Christmas Island for health, security and identity checks.
Earlier on Saturday a government patrol boat intercepted a boat carrying 15 passengers and two crew east of Browse Island off the Kimberley coastline. They were transferred to Broome initially and are being sent to Darwin detention centre for security, health and identity checks.
Source: AFP, AAP / Sydney Morning Herald

Latest Headlines in Sri Lanka