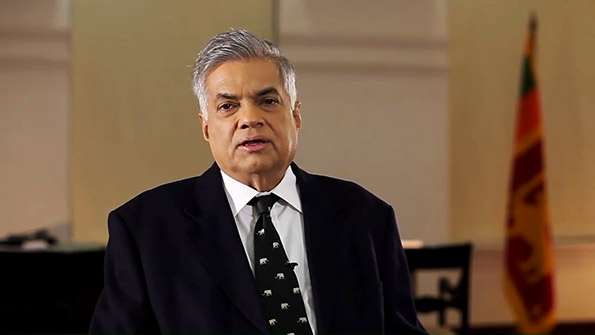 Prime Minister Ranil Wickremesinghe yesterday said that regaining the GSP Plus tariff concession will help boost the country's economy in a significant manner.
The Premier said that with GSP Plus concession Sri Lankan will be able to maximise foreign exchange earnings by tapping into the EU market which consists of 500 million people.
Premier Wickremesinghe was speaking at the opening ceremony of the ANTE LECO company in Bandaragama yesterday.
He also said that Sri Lanka intends to improve its imports to India which has a 1,500 million populace and China which has the worlds largest population. "The country has to get maximum benefit out of this facility," the Prime Minister said.
"Thapassu, Balluka business siblings who came with The Buddha's relics would have been chased out of the country had there been an opposition like the one that exist today,when they arrived in the country, Prime Minister Wickremesinghe said.
He said those who could do nothing for the country while in power are criticising the good governance government being in the opposition today.
The Prime Minister also said that the government has entered into trade agreements and the production out pot is planned to be exported to the foreign markets.
The Premier added that the government has a plan to increase production while creating more job opportunities and strengthening the economy by exporting the same production.
Power and Renewable Energy Minister Ranjith Siyambalapitiya and Power and Renewable Energy Deputy Minister Ajith Perera also participated at the ceremony.
(Source: Daily News – By Chameera Elladeniya)