Resource distribution among schools: Halt disparities, says President
Posted by Editor on July 26, 2010 - 1:46 am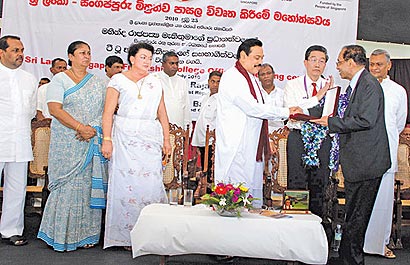 President Mahinda Rajapaksa yesterday urged relevant authorities to act immediately to halt disparities in teacher deployment in order to maintain equity in resources in all schools whether it is urban or rural. The President made these observations addressing a gathering following the declaring open the Sri Lanka – Singapore Friendship College in Weeraketiya funded by the Singapore Red Cross Society and pioneered by the Singapore Sinhala Association.
The President was of the opinion that the States efforts to deploy the required number of teachers equitably are being defeated by influential sectors including politicians who connive with teachers who dodge the responsibility of serving in schools not of their choice.
"When I visit various areas I find that some areas have a surplus of teachers and certain others have a shortage. Also it has been brought to my notice that this anomaly is partly due to the fact that certain teachers have been released to work with politicians\influential figures and in Zonal Educational Offices", President Rajapaksa observed.
"Recently authorities said that there was a large shortage of teachers in the East and I sent the required numbers. But now they are telling again that there is a shortage. This is because some who were deployed earlier has got transferred themselves to other areas of their choice", he said.
The President said that it was time for relevant stakeholders to do an extensive study on the matter and come out with a balance teacher deployment mechanism in order to alleviate inequity in distribution.
President Rajapaksa after vesting the facility with the public said that it was time to take clear and strict decisions to alleviate anomalies as the Government's biggest investment was on education.
He pointed out to the gathering that the people had given the Government a two thirds mandate in order to take straight forward decisions to benefit them and cautioned that the Government would not hesitate to take tough action against wrong doers.
He said that all efforts were directed to arm the future generation with quality education and added that physical efforts at development would be to no avail without achieving a morally rich and educated society.
According to Speaker Chamal Rajapaksa the newly built college with all facilities inclusive has the capacity to accommodate 1200 female students aged 13 to 18. It is also to be developed as a model school.
The efforts are pioneered by the Singapore Sinhala Association with help from other relevant stakeholders of the area and is funded by the Singapore Red Cross Society. The modern structure and facilities built in accordance with the best practices has cost over US $ five million.
The land for the School premises has been donated by Kondagala Raja Maha Viharaya Chief Incumbent, Ven. Narandeniye Deepananda Thera.
Yesterday's event was also addressed by Speaker Chamal Rajapaksa, Singapore Red Cross Society Chairman Tea Tua Bah and the President of the Singapore Sinhala Association Dr. Oliver Hennedi.
First Lady Shiranthi Rajapaksa, Southern Province Governor Kumari Balasuriya, Ministers Mahinda Amaraweera, Mahinda Yapa Abeywardene, Namal Rajapaksa MP, V.K. Indika MP and Southern Province Chief Minister Shan Wijeyalal de Silva were also present.
Daily News
Latest Headlines in Sri Lanka