Govt. forgotten Sirimavo legacy – CBK
Posted by Editor on July 25, 2010 - 6:47 am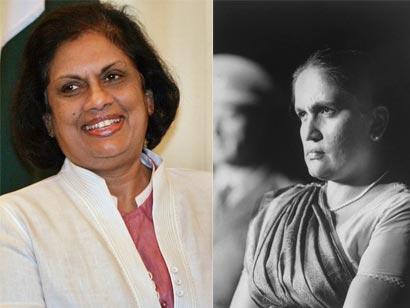 The former president of Sri Lanka, Chandrika Kumarathunga, has accused the government of completely forgetting the legacy of the word's first woman prime minister.
The younger daughter of Sirimavo Bandaranaike told BBC Sinhala service that the government have an "obsession against" the Bandaranaike family.
She said the government could still celebrate the 50 anniversary of "the Sri Lankan achievement" of voting the first ever woman PM in July 1960.
"She was not remembered except for ordinary people. The government of her won party -my party also – neither the party nor the government did anything at all to remember her or her achievement. I think it is very petty minded and it is disgusting," Mrs. Kumarathunga said.
'Strong democrat'
"She put us on the world map. She was a leader of the Non Aligned Movement, she took leadership in many other international negotiations."
Sri Lanka's first woman executive president says that the greatest legacy of her mother is that Mrs. Bandaranaike worked hard to strengthen democracy in the island.
"She was a very sincere and strong democrat. At no point in her political career did she condone any anti-democratic actions."
Mrs. Kumarathunga refused to comment whether she would once again enter active politics.
"Mrs. Bandaranaike's appointment opened doors for "thousands of women across the globe to follow her footsteps," a statement issued by Visaka Dharmadasa, Chairperson of Association of War Affected Women said.
Celebrations will be held throughout the year to "encourage women around the world to enter in to the realm of politics," it said.
Earlier, a leading opposition parliamentarian called for a special quota in the parliament for women.
Rosie Senanayake, opposition MP for Colombo district, told BBC Sandeshaya that Sri Lanka has failed to improve the representation of women from the early twentieth century despite producing the first ever woman prime minister in the world.
"Sri Lanka being the first country in the region to introduce universal suffrage still only has about 4.5 percent of women in the parliament," she told the BBC days before the 08 April parliamentary elections.
BBC
Latest Headlines in Sri Lanka