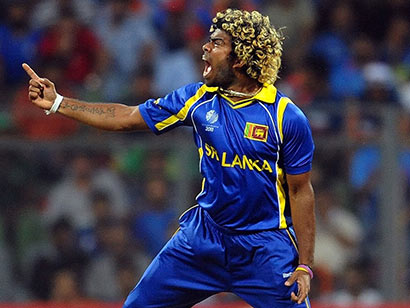 New Zealand need only refer to their most recent match at a Cricket World Cup to realise the threat posed by Sri Lankan pace bowler Lasith Malinga.
The colourful quick with the slinging style will make a welcome return for the Sri Lankans in their World Cup opener against the Black Caps at Hagley Oval on Saturday.
The 31-year-old owner of 271 ODI scalps missed last month's seven-match series in New Zealand, won 4-2 by the hosts, while recuperating from ankle surgery.
It is uncertain if he will be at his best but Malinga is sure to add spice to the relatively tame attack which allowed New Zealand's batsmen to thrive at the start and finish of their innings in January.
Death bowling is his specialty, having been rated the best in the world at that craft through various stages of his career.
His efforts have helped lift Sri Lanka to the last two World Cup finals, a highlight coming at the 2007 tournament when he became the only bowler to take four wickets in four balls, against South Africa.
He also shone when they beat New Zealand by five wickets in the semi-final of the 2011 World Cup in Colombo, taking two of his three wickets in the closing overs while applying the brakes.
It continued a sharp record against the Black Caps, something recognised by his captain Angelo Mathews.
"Lasith is one of the most experienced guys in our team and he's our best death bowler coming into the World Cup.
"We are excited to have him back."
New Zealand wicketkeeper Luke Ronchi says the Black Caps have taken care to prepare for Malinga's awkward approach.
"There's been a bit of scouting but everyone's faced him and knows what he's got," he said.
"You've got to get used to that action, change your game and plan for different balls."
Sri Lanka could employ extra pace on two fronts.
The injured Dhammika Prasad was replaced in the squad this week by Dushmantha Chameera, the 23-year-old speedster who impressed in his maiden ODI against New Zealand at Wellington two weeks ago.
(Yahoo News)