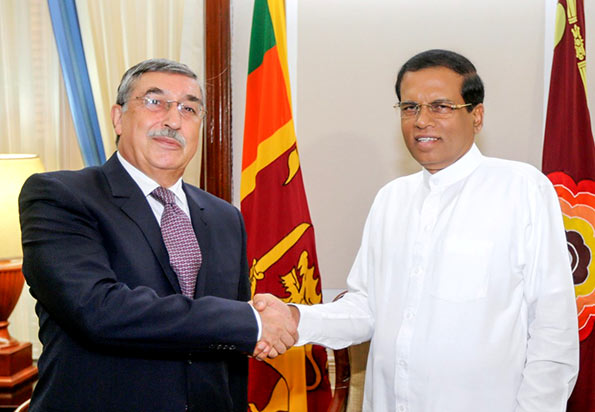 Sri Lanka and Russia will enter into several new Agreements and Memorandums of Understanding (MoU) to expand bilateral cooperation in several fields such as energy, trade and commerce, agriculture, education, judiciary and defense.
This was discussed when Ambassador of Russia in Sri Lanka, Mr Alexander A Karchava, called on President Maithripala Sirisena at the Presidential Secretariat yesterday afternoon (May 07). The Ambassador conveyed President Putin's best wishes to President and congratulated him on his successful implementation of several important programs under the 100-day program of the new government.
President Maithripala emphasized that whatever the way international trend develops, Sri Lanka and Russia should maintain their strong friendship and close bilateral ties.
Sri Lanka and Russia are expected to sign agreements on expansion of trade and commerce and a MoU on setting up of Joint Government Commission on International Trade and Commerce later this year.
Ambassador Karchava said his country offered three additional scholarships to Sri Lankan researchers to study Nuclear Physics in Russia. Three agreements on cooperation in the field of law will also be signed later this year.
President Maithripala thanked Russia for the support given to Sri Lanka at the international forums and the Russian Envoy assured that his country would always stand by Sri Lanka.
Ambassador Karchava said Sri Lanka could utilize the remaining US$ 100 million from the credit line extended earlier to purchase equipment for Sri Lanka Air Force.
(President Media)