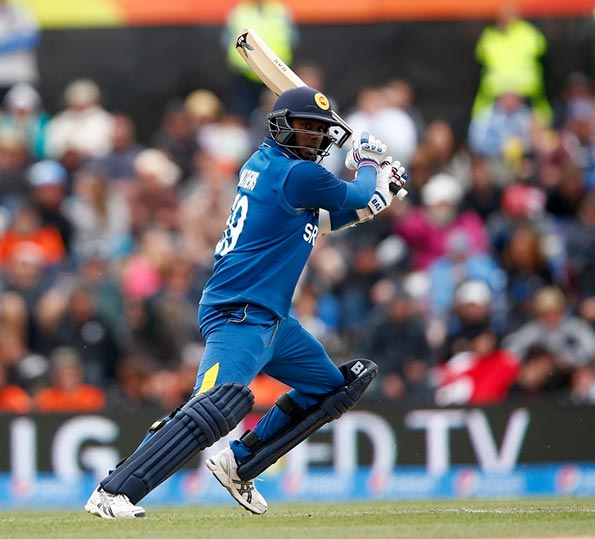 Calcutta: Sri Lanka's Test and ODI captain Angelo Mathews, who turns out for the Delhi DareDevils in the IPL, took questions from The Telegraph on Wednesday evening.
The interview with Mathews, 27, was done at the ITC Sonar.
Q Have you, as Sri Lanka's captain, got over the disappointment of being eliminated in the World Cup quarter final, by South Africa?
A One is still disappointed, for we didn't play well in the World Cup… There's no getting away from that. However, it's time to move on and look at the upcoming challenges.
Were Australia deserving winners?
They played better than the rest, so congratulations to them.
You had so many former captains in your team… Mahela Jayawardene, Kumar Sangakkara, Tillekaratne Dilshan… Was that an advantage or a disadvantage?
They were a strength for me, especially Mahela and Sanga. All of them were extremely supportive. In fact, all the seniors made my job easier. We worked together and cricket actually is about that. I don't believe any captain should be a one-way guy. Captains should listen to seniors and juniors. I do that before deciding what should be done.
So, you were able to be your own man…
Of course. As captain, I'm accountable, so I lead my way. But, as I've said, I listen to the seniors and juniors. They offer ideas, but I make my decisions and have to live with them.
How would you describe your style of captaincy?
I'm open to options being suggested… I don't just discard the opinion of others… I like to bring the team together, to keep everybody involved. Captains can't make things work unless they have everybody on board.
Have you looked up to a captain?
Mahela… A great technician as batsman and very good as captain. I loved the way Mahela handled players and that's something I've learnt from him.
In your book, who qualifies to be a good captain?
Somebody who gets the maximum out of his teammates… You're remembered for winning matches and to get the results, a captain needs his players to be at their best. Remember, to win, you need all XI to be at their best, not the captain alone. No captain can win on his own. Captains can make the tactical changes, but his players have to execute the plans on the desired lines.
Do captains actually sit on the 'hot seat'?
(Smiles) The seat is hot, yes. My teammates have made it easier for me, but I'm definitely in a seat which is hot.
Have there been times when you've found the captaincy very demanding?
Yes, but I've never found the captaincy to be a burden. Thanks to my teammates.
Jayawardene is through with all formats, while Sangakkara is months away from doing the same… Won't life minus the two giants be exceedingly tough for you?
First, let me thank Mahela and Sanga for their services… They've served Sri Lanka in outstanding fashion… Both Mahela and Sanga nurtured the newcomers, enabling them to grow in confidence. It's time now for us, the younger generation, to take Sri Lankan cricket forward. It's going to be challenging, no doubt.
You do have talented cricketers…
Indeed. We just have to be calm in tight situations and stay positive… Obviously, the players with potential will have to deliver… Have to make use of the opportunities… I accept that stepping into the shoes of Mahela and Sanga would be daunting. They're really big shoes to fill.
What have you learnt in the three years as Sri Lanka's ODI captain and two-plus as the Test captain?
I've been learning every day. No one can say he's learnt everything. That's just not how it goes in cricket. It's about picking up the little things and I'm certainly not going to claim I know everything.
Sri Lanka are No.1 in the T20I rankings, No.5 in ODIs and No.6 in Tests… You're the World T20 champions, but you'd surely like much more consistency in the older formats…
Consistency doesn't come easy and a lot of hard work is required.
You're an all-rounder, so do you then have too much on your plate?
I try and keep it simple, knowing that I have to contribute with bat and ball. I'm the captain, fine, but I have other roles to play.
To talk of the IPL… You hardly played for the Kolkata Knight Riders in the 2009 edition (in South Africa), but life changed for you soon afterwards, after the World T20 in England…
That tournament proved a turning point in my career. My debut for Sri Lanka was in the previous year, but few had taken notice of me then… I haven't looked back after that World T20 and I've tried to keep improving with every season… Being experienced helps.
What drives you?
The urge to get better.
After the Knight Riders, you played for the Pune Warriors. Then, this season, you're with the DareDevils after being overlooked in 2014. How is this franchise?
I've never had an issue with any franchise. I've been comfortable with the environment each one of them has offered. The IPL isn't without pressure and players wouldn't like their franchise to add to the pressure. The better the environment, the better it is for the players. They'll be able to play with freedom, which is a top demand of the T20 format.
You aren't the DareDevils captain, J.P. Duminy is, but are you asked to contribute to strategy?
Whether I'm the captain or not, I'm expected to contribute and I do. I have a responsibility. In fact, all XI players on the park have to think like captains. The captain may or may not listen to advice, but all must still express their thoughts. JP, I must say, has handled us players very well and kept us calm.
What's it like working with Gary Kirsten, the DareDevils' head coach?
(Tone of admiration) Gary manages players brilliantly… It's all about giving confidence, encouraging them to think and to play with freedom. During the one-on-ones, he stresses quite a bit on the freedom bit. He believes in his players and backs them. We've played pretty poorly so far, but Gary's approach hasn't changed.
[The DareDevils couldn't win on Thursday either, losing to the Knights at the Eden.]
Has this been the most competitive IPL?
I'd say so, yes. After the top two positions, it has got very crowded on the points table.
Just how challenging is the T20 format?
It's getting better and better and faster and faster… There's little time to think and you have to keep fighting it out. As a batsman, you have to develop means to dominate the bowling… As a bowler, you have to work out on how to stay ahead of the batsmen… It doesn't help that the wickets are good, the bats great and the boundaries small. The format is very challenging for the bowlers.
Would you prefer to only bat in this format?
Definitely. The T20 format is a nightmare for the bowlers. I'm lucky to be an all-rounder. If I miss out in one department, I can still make amends in the other.
What's the best way to approach the format?
One shouldn't be afraid to take risks. One should also look to play with freedom.
The final one… What's it like sharing the dressing room with Yuvraj Singh?
We were together in the Pune Warriors as well… Yuvi's a tremendous guy and a tremendous cricketer.
(The Telegraph)