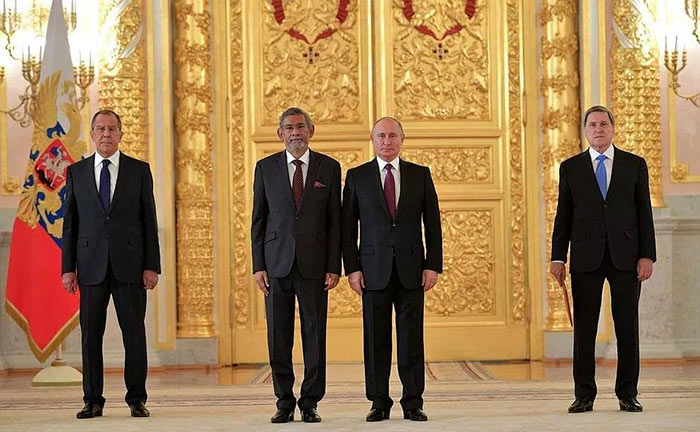 President Vladimir Putin says Russia maintains traditionally friendly relations with Sri Lanka and is interested in closer trade and economic cooperation, including in fishery, agriculture and tourism.
"I would like to note that in September we signed a bilateral intergovernmental agreement on military cooperation," the Russian President said on Thursday, during a ceremony to present credentials at the Kremlin in Moscow.
Heads of 23 diplomatic missions including Sri Lanka's newly-appointed Ambassador to Russia, Dr Dayan Jayatilleka, were present in the Alexander Hall of the Grand Kremlin Palace as they presented their credentials to the President of Russia.
Speaking a few words during the ceremony about Russia's relations with each of the countries, Putin said that the 23 newly-arrived ambassadors have the honourable and important mission of promoting relations between their states and Russia, encouraging political dialogue and expanding economic and humanitarian ties.
"Today we need diplomacy to play an active and constructive role, to use the power of words, negotiations and compromise to make a tangible contribution to overcoming the current difficulties in international affairs and searching for responses to new challenges and threats," he said.
The President said that Russia is dedicated to a peaceful policy and progressively carries out a responsible course in foreign policy. As a permanent member of the Security Council, Russia defends the basic principles stipulated in the UN Charter: sovereignty and equality of states and non-interference in their domestic affairs, he said.
"We stand against using politically motivated protectionism measures and sidestepping the norms of international law," Putin said.
He added that Russia attaches great importance to relations with each of the states the envoys represent. "We are sincerely interested in making your activities as productive as possible."
Rest assured that all initiatives you propose will be supported by the Russian leadership, executive bodies, businesses and society, he said.
(Source: Ada Derana)