Safer community depends on sustainable development – President
Posted by Editor on December 27, 2010 - 8:26 am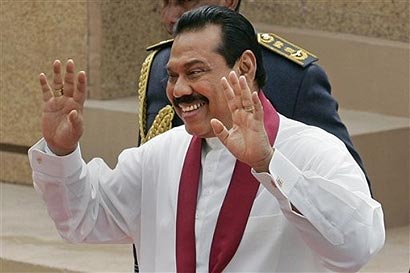 To ensure effective risk reduction, it is important that the linkages between disaster and development are understood. As the theme of this event signifies a safer community depends on sustainable development, President Mahinda Rajapaksa said in a message for the National Safety Day.
More importantly, the public needs to be aware of the existing disaster risks along with a better understanding of what measures are necessary to reduce them, the President added.
The National Safety Day was held to commemorate tsunami victims, at the Weerasingham Hall in Jaffna Sunday , under the patronage of the Prime Minister D. M Jayaratne.
This was held under the theme "Safer Community through Sustainable Development" and it was the first time that the National Safety Day was held in the North.
A nation-wide two minute silence was also maintained between 9.25 a.m to 9.27 a.m today as a mark of respect for those who died in the 2004 tsunami. Soldiers who lost their lives during the war were also remembered.
Disaster Management Minister Mahinda Amaraweera addressing the media said his Ministry will focus on disaster mitigation to avoid unnecessary funding for disaster relief every year.
"We can save huge amounts of public funds if we take precautionary measures to avoid disaster situations rather than spending money for disaster relief", the Minister said.
Prompted by the lessons learnt from the Indian Ocean Tsunami of 2004, the Government introduced a comprehensive system of disaster management supported by a legal framework and institutional arrangements. Under the system, the emphasis has been shifted from emergency response to prevention and mitigation of disaster risks.
The Disaster Management Center said that 54 of tsunami warning centers had been set up throughout the coastal areas of the country and 25 more will be set up in the North and the East in the coming year.
The tsunami which struck on 26 December 2004 caused the biggest natural disaster in the history of the country taking more than 35,000 lives.
Source: Government News Portal
Latest Headlines in Sri Lanka