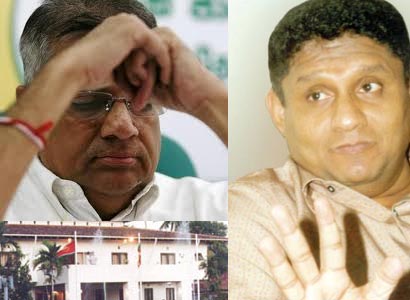 In spite of being re-elected at Monday's election by secret ballot at Sirikotha, UNP leader Ranil Wickremesinghe is facing the fight of his political life, with UNP's No 2, Sajith Premadasa disputing Wickremesinghe's allegations directed against Sirasa media network.
Parliamentarian Premadasa is on a collision course over Wickremesinghe accusing Sirasa of conspiring with Reformists to take over the party leadership.
At the behest of Sirasa, the newly elected UNP Deputy leader and his colleague, MP Dayasiri Jayasekera who failed in his bid for the position of the party's national organizer, lashed at Wickremesinghe while reiterating their unstinted support for the media group.
Political sources told The Sunday Island that even those backing Wickremesinghe had been frustrated by the scathing attack on Sirasa. Sources claimed that the UNP leader had been more or less isolated on this issue, with none of his key supporters publicly substantiating the allegations.
Two of Wickremesinghe loyalists, Colombo District MP Ravi Karunanayake and Colombo Mayor A.J.M. Muzammil continued to receive positive coverage, while Sirasa ridiculed the UNP leader.
The bottom-line is that none of Wickremesinghe loyalists wanted to take on Sirisa, while rebels threw their lot with the Maharaja Organization.
Kurunegala District MP Jayasekera launched a scathing attack on Wickremesinghe over his unprecedented call to boycott Sirasa. Addressing the media on Thursday (Dec 22) in Colombo, Jayasekera asked whether the UNP leader wanted people to watch UPFA mouthpieces, Rupavahini and ITN. He alleged the Wickremesinghe camp had numbered the ballot paper given to members of the decision making Working Committee to identify each and every voter.
Wickremesinghe polled 42 votes more than Jayasuriya, who managed a poor 26 votes at Monday's vote. Sources said that the 42 member-UNP parliamentary group had been sharply divided, with Ranjith Maddumamabandara, Rosy Senanayake and Sujeeva Senasinghe attacking Wickremesinghe.However, Wickremesinghe had the support of the majority of Working Committee, though some of them voted for MP Premadasa, prompting President Mahinda Rajapaksa to suggest that Wickremesinghe may have had his people voting for Premadasa.
Sirasa also brought in NGO bigwig, Paikiasothy Saravanamuttu for its defence in the wake of Wickremesinghe taking on a German NGO for being involved in the rebel's conspiracy backed by Maharaja Chief Killy Maharajah.
Addressing the parliament early last week, Wickremesinghe declared that they would like to hear the "great'' Killy Maharajah in the immediate aftermath of the demise of North Korean dictator Kim Jong II.
Wickremesinghe challenged that if Sirasa wanted to respond to his allegations, he was ready to move parliament for the establishment of a Parliamentary Select Committee (PSC) to inquire into the conduct of those in the media playing politics. The UNP Chief also accused a section of the print media of undermining him and went on to name several of his one-time journalist friends now working against him.
Sirasa sources told The Sunday Island that it wouldn't back down. "We'll continue our coverage in spite of Wickremesinghe's attempts to silence us," they said.
Political sources claimed that the rebels had caused irreparable damage to their cause by allowing supporters to go on the rampage outside Siri Kotha. Rebel sources acknowledged that the telecast of Siri Kotha chaos had embarrassed those seeking a peaceful transition of power.
They saw the current crisis to be worst since the 1991 failed bid to impeach President Ranasinghe Premadasa.
President Rajapaksa had exploited the UNP crisis to his advantage by publicly siding with Wickremesinghe, sources said. The President's move and the speed the police had swung into action after the attack on Siri Kotha had exposed the UPFA's hand, they said.
An embarrassed Media Minister Keheliya Rambukwella, seeking to make use of violence outside UNP headquareters to the UPFA's advantage on Thursday at the post-cabinet briefing struggled for words when a journalist pointed out the so efficient police did absolutely nothing in spite of having video evidence of UPFA attack on Sirasa.
Meanwhile, Wickremesinghe is also taking on the Democratic National Front (DNA) heavyweight Tiran Alles, MP, over an alleged attempt by the parliamentarian to undermine his authority.
Sources said that this could also developed into another competition due to both Wickremesinghe and Alles making separate bids to secure the release of imprisoned defeated presidential candidate, Gen. Sarath Fonseka.
Courtesy: The Island