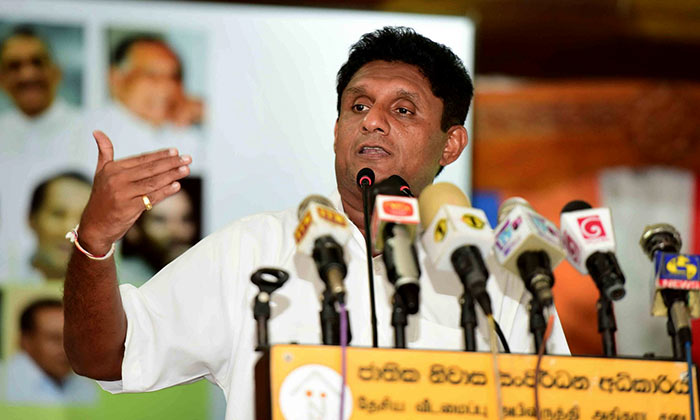 Construction work on 724 new model villages have begun throughout the country under the 'Udagam' housing programme, Housing and Construction Minister Sajith Premadasa said.
"Two such villages are vested in the people every week under this programme. Our objective is to complete 2,500 new model villages under this programme by 2020, the Minister said.
The Minister disclosed this at a meeting which followed the opening of the "Neelaharithagama" and 'Vijaya Sri Gama' model villages in Kusumpura, Nochchiyagama in the Anuradhapura district recently.
He said the two new schemes, the 70th and 71st model villages have been vested with the people so far. The Udagam housing programme which was in the pigeon hole during the previous regime had now been revived and brought to the forefront under the Government's national development programme.
"The two new housing projects had cost Rs. 109 million. A sum of Rs. 4.2 million had been spent on the provision of electricity to the village. Minister P. Harrison had allocated Rs. 1 million each for the water supply and a road network for the two model villages," Minister Premadasa said. He said Parliamentarians had allocated over Rs. 200,000 for the development work.
He said 52 homeless families would become proud house owners that day. Other benefits offered on that day included Rs. 10.6 million as housing loans to low income families in the area under the 'Visiri Niwasa Naya' loan scheme, Rs. 10 million as assistance to another 50 beneficiaries under the 'Sonduru Piyasa housing loan scheme,' and vocational equipment and uniforms valued at Rs.1.8 million to 50 youths of both sexes.
"Housing assistance worth Rs. 14.8 million to 50 kidney patients and the distribution of free spectacles among 250 visually impaired persons tool place in the occasion.
Minister Premadasa said the government hopes to complete 2,500 new model villages before any future General or Presidential election.
(Source: Daily News)