Mahinda Rajapaksa always a friend of Muslims – Gotabaya
Posted by Editor on June 11, 2018 - 7:21 am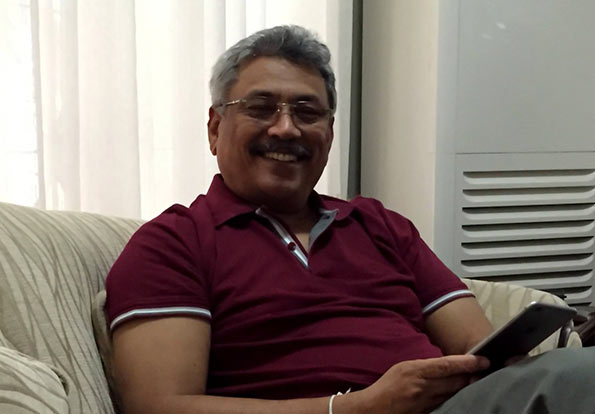 Former Defence Secretary Gotabaya Rajapaksa participated in an Ifthar celebration on Friday (8) at a leading Colombo hotel.
"Over the past few weeks, I had the opportunity to attend another Ifthar ceremony in Beruwala, while Basil Rajapaksa attended one in Galle, and Former President Mahinda Rajapaksa hosted one at his official residence in Colombo," he said adding that Mahinda Rajapaksa was a long-standing friend of the Muslim community, locally as well as internationally. "In 1970s, as a young MP, he was the first chairman of the Sri Lanka- Palestine Friendship Association."
"When he was elected President, he inherited a country that was devastated by a 30-year-long war on terror. All of you are aware of the immense hardships that the entire country suffered due to terrorism.
"The Muslim community, especially in the North and the East was severely affected. The LTTE who drove out 75,000 Muslims from the North virtually overnight in the 1990s. Many thousands more lived in constant fear in the Eastern Province, with mosques being attacked from time to time and massacres being carried out. The first priority of the Rajapaksa administration was to defeat this barbaric terrorism and bring peace to Sri Lanka and all Sri Lankans. I am sure you will remember the suicide bombs, vehicle bombs, claymore mines and other attacks the LTTE carried out on politicians, community leaders, military personnel and civilians throughout Sri Lanka.
"To prevent these attacks, it was necessary to take extreme actions as precautions. That is why the security forces and Police set up roadblocks, carried out search operations, and arrested those suspected of terrorist involvement. These actions were not targeted at political opponents or other individuals or groups. It had to be done to prevent terrorism and safeguard the lives of innocent civilians. And as you know, we completed that task to the last letter for the benefit of all citizens of our country.
"Soon after the war ended, massive development drive took place in the North and the East. All of these efforts by the Rajapaksa administration were for the benefit of all communities living in these areas. With this accelerated reconstruction and development in the former conflict areas, and the rapid economic growth taking place everywhere after the war, the Rajapaksa administration was leading Sri Lanka towards a truly bright and prosperous future; A future where the Sinhalese, Tamils, Muslims and people from all communities could live in harmony.
"Unfortunately, several forces both in Sri Lanka and abroad came together to halt this historic journey.
"It is no secret that during the last few years of the previous Government, there were strong efforts by various parties, both in Sri Lanka and abroad, to drive a wedge between the Mahinda Rajapaksa administration and the Muslim community in Sri Lanka. This was done in a very organized manner. The lies that were spread within the community and actions that were instigated to cause unfortunate incidents led to a perception that the Muslim community had cause to be wary of the Rajapaksa administration. This is very far from the truth, he said.
"However, those Muslim leaders who worked closely with the former Government know very well that we took great care to uphold the security and dignity of the Muslim people under very sensitive circumstances. But I agree that we could have done certain things differently, not giving opportunity to opportunists.
"Unfortunately, the false impression created by these lies and such orchestrated incidents was so strong that we were unable to convince many in the Muslim community about the sincerity of the Rajapaksa administration. This was a trust deficit that contributed to the unfortunate defeat of President Mahinda Rajapaksa in 2015, and halted the rapid progress Sri Lanka was making as a nation under the Rajapaksa Government.
"But that is in the past.
"Soon, we may have another opportunity to continue that journey of progress. We have engaged in continuous dialogue with the religious leaders and elders of the Muslim community, and will continue to discuss the issues that trouble you, the fears you have, and the measures that can be taken to resolve them. The intention of the Rajapaksa Government was always to create a nation where Sinhalese, Muslims, Tamils and people from every community in this country can get on with their lives knowing they are safe.
"To build a country where people can work and prosper in their livelihoods, ensure a bright future for their children, practice their religions and customs in peace, and live their lives with dignity. If we can all come together once again, I am sure we will be able to achieve this. That will be to the lasting benefit of all Sri Lankans living in this country today, and for all our future generations. It is something I hope we can all work towards.
"Finally, let me express my gratitude once again to the organizers of this Ifthar ceremony for having invited me, and thank you all for your patient hearing."
(Source: Ceylon Today)
Latest Headlines in Sri Lanka