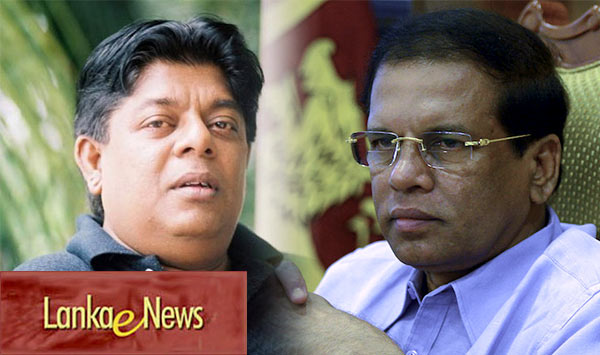 President Maithripala Sirisena yesterday requested Britain to have London-based LankaeNews Editor Pradeep Sandaruwan Senadheera arrested or sent back to Sri Lanka. He made the request during a 30-minute a meeting with British High Commissioner James Dauris whom he summoned to his Paget Road residence.
Among those present at the discussion were the President's Coordinating Secretary Shiral Lakthilaka and Defence Secretary Kapila Waidyaratne . The website has been blocked since November last year by the Telecommunications Regulatory Commission of Sri Lanka (TRCSL), headed by Presidential Secretary Austin Fernando. The ban was imposed after the website published articles critical of Mr Sirisena.
Information obtained under the Right to Information Act by the website Groundviews revealed that the President's office issued a letter to the TRCSL Director General in November 2017 saying LankaeNews was publishing false articles about the President and his family members. Signed by Dharmasiri Bandara Ekanayake of the President's Media unit, the letter said the site was run from outside Sri Lanka and that the office had tried to contact its editor via email and phone.
The President's Office could not pursue legal action as the editor was based outside the country (Mr Senadheera fled to exile in London citing threats from the former Rajapaksa administration), it continued, before directing the TRCSL to take suitable action.
(Source: The Sunday Times)