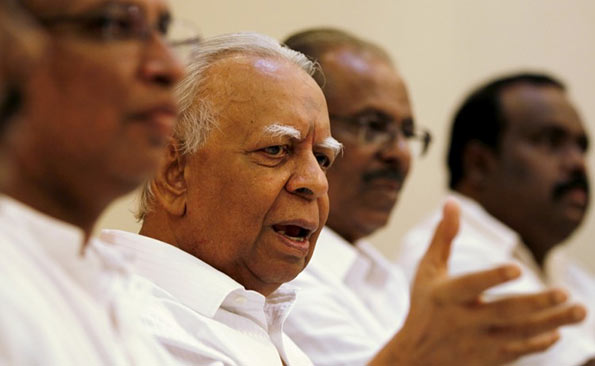 Police investigations into a complaint that a group of more than 50 persons led by Opposition and TNA Leader R Sampanthan forcibly entering an army camp at Paravipachchan in Kilinochchi on April 16 have been stalled as the army has been ordered not to pursue the case.
Police said yesterday that officers of the Paravipachchcan camp had been summoned to Kilinochchi police to record their statements on the incident but the camp officers declined to cooperate saying that they had been instructed not to proceed with the case.
A group of more than 50 persons including opposition and TNA Leader R Sampanthan, TNA MPs S Sritharan, and MA Sumanthiran entered the Paravipachchan camp around 3.00 pm on April 16 without obtaining prior permission. They remained in the camp premises for several hours.
Following the incident army lodged a complaint with the Kilinochchi police and another complaint with the Senior DIG of the Northern Range.
A special team of policemen under an ASP was appointed to investigate the incident. The officers and men of the Paravipachchan camp were asked to visit the Kilinochchi police to make statements.
Police said they could not proceed without statements from camp authorities and men who were manning the entry point to the camp.
(Source: The Island – By Hemantha Randunu)