SLFP won't support Federalism: Mahinda Samarasinghe
Posted by Editor on April 26, 2016 - 8:12 am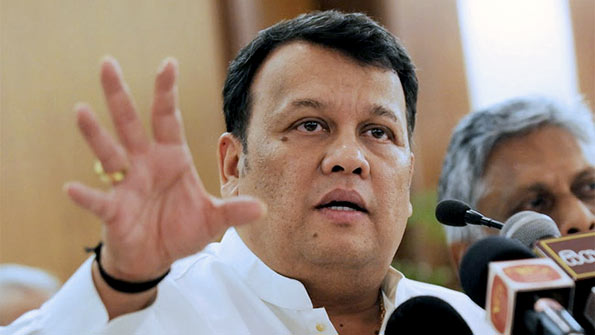 The SLFP neither supports nor is willing to discuss federalism, Skills Development and Vocational Training Minister Mahinda Samarasinghe said.
He was addressing a media briefing at the Information Department yesterday.
Samarasinghe added that such moves would destabilise the current politically stable environment.
The minister's statement was in response to the Northern Provincial Council (NPC) having passed a resolution sponsored by the TNA to urge the government to introduce provisions to the proposed new constitution enabling the merger of the North and East and granting federalism.
"The NPC can pass any motion but we cannot support something which goes against our constitution," Samarasinghe said.
The minister added that the central government would instead be more open to discuss greater devolution of financial and political powers to local government.
He cited the move to revert back to local governments controlling their own finances from the Treasury rather than it being channelled through line ministries as one such example.
Southern Provincial Council Chief Minister Shan Wijayalal de Silva explained that while many motions were regularly passed at every Provincial Council in the country, in the end, it was only the Governor of the Province who had the legal authority to implement them.
"All local governments meet annually to discuss our common problems but the Northern Province Chief Minister sadly never attends these meetings. He accepts the invitation but never turns up," de Silva said.
Samarasinghe who also commented on Opposition Leader, R. Sampanthan's recent unannounced visit to the Kilinochchi Army Camp, said: "We don't expect such behaviour from such an experienced politician. Neither he nor his MPs are barred from the camps, there is no war, he can go there anytime as a public representative but there is procedure to be followed when doing so".
He added: "Such actions merely provide fodder for extremists to achieve their own narrow agendas. That is something neither Sampanthan nor we want."
(Source: Daily News)
Latest Headlines in Sri Lanka