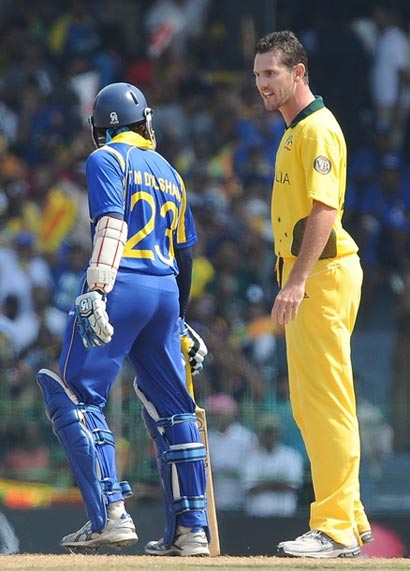 Sri Lanka skipper Kumar Sangakkara told Tillakaratne Dilshan to stay angry despite the opener losing out to Australian fast bowler Shaun Tait in an ugly World Cup war of words.
Dilshan and Tait were locked in a furious exchange when the Sri Lankan star edged through the slips for a boundary at the start of Saturday's abandoned match in Colombo.
He then pulled away from the crease just as Tait went into his delivery stride, before the speedster had his man next ball, courtesy of a slip catch.
"Dilshan has been our best performer over the last few years. He has won us so many games so we just want him to go out and we want him to be focused and keep his aggression," said Sangakkara.
Dilshan made just four runs against Australia having made 50 in the game with Canada, 41 against Pakistan and 44 against Kenya.
"In cricket you have instances where not everyone shines every day. You always get matches where certain people shine and some don't," added the captain.
"I think batsmen go through certain phases. The most important thing at all times in high-performance situations is to maintain equilibrium, make sure that your emotions remain the same at all times."
Sri Lanka tackle Zimbabwe on Thursday in a crucial Group A game.
Source: Ada Derana / (AFP) – Pix by Getty Images