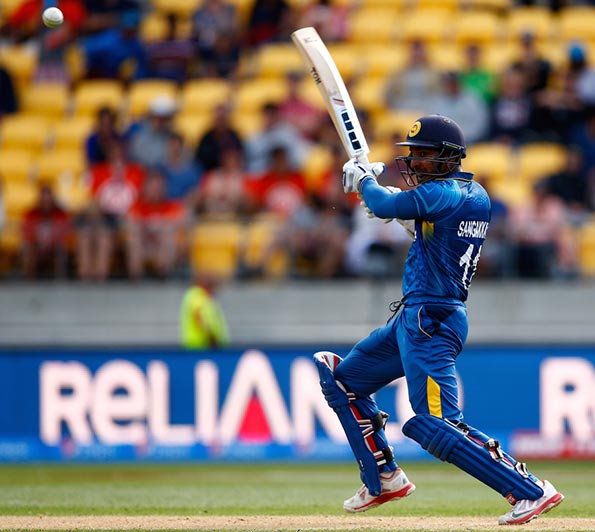 Sri Lanka great Muttiah Muralitharan said Kumar Sangakkara would be the batsman all other teams feared at the World Cup after the left-hander made his third successive hundred on Sunday.
Sangakkara's superb 104 against Australia in Sydney saw him become the first batsman to score hundreds in three consecutive World Cup innings.
"In Kumar Sangakkara, Sri Lanka have the number one one-day batsman in the world at the moment," Muralitharan wrote in his column for the International Cricket Council website.
"You can talk all you like about Virat Kohli, A.B. de Villiers or Glenn Maxwell — and all of them have played superbly in this tournament — but Sanga is the man all other sides will fear most of all," added Muralitharan, a key member of Sri Lanka's 1996 World Cup-winning team.
"His feat of scoring three World Cup hundreds in a row is incredible and his ability to score at better than a run-a-ball without appearing to take risks is exceptional.
"As this is his last World Cup he looks like a man on a mission," said the off-spin great of the 37-year-old Sangakkara. "He is showing himself to be the complete player in every sense.
"And with the other players in the top-order feeding off him and firing too, Sri Lanka is a side that looks capable of causing plenty of opposition bowlers' headaches over the remaining matches."
Despite Sangakkara's latest century, Sri Lanka suffered a 64-run defeat by Australia at the Sydney Cricket Ground as they just ran out of steam trying to chase down a huge target of 377.
Muralitharan said the blame lay with the balance of the side and urged Sri Lanka to include an extra bowler.
"Beyond Lasith Malinga, who is slowly but surely getting back to somewhere near his best, Sri Lanka does not have any high-quality operators, especially with Rangana Herath on the sidelines as he recovers from an injury to his spinning finger.
"On that basis, and with the confidence of the batsmen sky-high, it again cried out for the selection of an extra specialist bowler but, as yet, it is a cry that is falling on deaf ears.
"After all, no matter how well the batsmen are playing, it is asking too much of them to need to score in excess of 300 every time in order to win or keep the side in the match."
Sri Lanka, still on course for the quarter-finals, conclude their pool programme against Scotland in Hobart on Wednesday.
(AFP / Dawn)