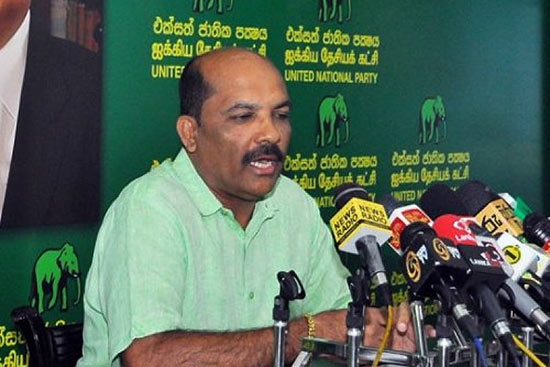 State Minister of Disaster Management Palitha Range Bandara yesterday said that he was satisfied with the re-organization taking place within the United National Party (UNP) as it gears itself for the 2020 Presidential Election.
Speaking to the media at the Disaster Management Centre he said several changes had been undertaken in this regard by Party Leader Ranil Wickremesinghe
"Earlier, there were doubts in the minds of the members that the re-structuring process might not take place, however most of the promises made by the leader have been fulfilled," he said.
"We have no problem with Former Defence Secretary Gotabaya Rajapaksa contesting the 2020 Presidential Election," State Minister Range Bandara said.
"Whoever opposes us we have to face the election positively. It is not a question of whether Gotabaya is a candidate. Everyone knows about his past and knows who sent white vans to abduct people and the killing of beggars," he said.
(Source: Daily Mirror – By Chaturanga Samarawickrama)