School is the best medium to carry forward the message of national reconciliation – President
Posted by Editor on April 28, 2018 - 8:26 am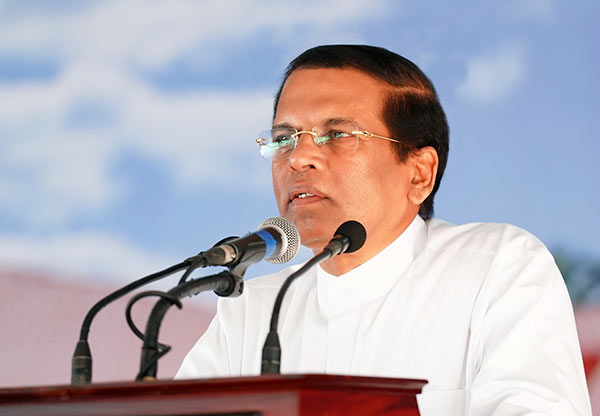 President Maithripala Sirisena says the school is the best medium to carry forward the message of national reconciliation to the society.
He made these remarks participating in the Golden Jubilee celebrations of the Zahira College in Anuradhapura, yesterday (27). The President also vested the new three-storied building for classrooms at the school with the students.
President Sirisena was warmly received by students of the school when he arrived at the school. The President also opened the Smart Classroom which included in this new three-storied classroom building and this Smart Classroom was built under the financial assistance from Zahira College old boy, Kosala Jayarathna.
A sapling was planted in the school premises to mark the visit of the President to the school.
The principals and teachers who had served in the fifty years of the history of the school were felicitated and the President presented awards to the first Principal and the first teacher of the school.
Addressing the students, the President further said that a great message delivers to the society regarding the national reconciliation through a school where students belong to different communities study together in a same place. President Sirisena added that the school education plays a pivotal role in building national reconciliation.
Ministers Rauff Hakeem, Duminda Dissanayake, Chandrani Bandara, P. Harrison, Governor of the North Central Province, M. P. Jayasinghe, the staff of the school, including the Principal, the parents, past pupils and others participated on this occasion.
Meanwhile, President Maithripala Sirisena also vested the new three-storied classroom building and the auditorium at the Anuradhapura Central College with the students today.
President Sirisena was warmly received by students when he arrived at this school too.
The President unveiled the plaque and vested the new auditorium and the building of classrooms to the students and had a friendly conversation with them during the observation tour.
While addressing the gathering, the President stated that it is very import to give consideration to the problems occur in school administration, in extra curricular activities and supplying resources while compilation of National Policy making on Education as highly competitive students are being enrolled to a single national school based on its popularity.
President Sirisena said that the situations of developed countries are very different and all the investments done by our country on behalf of free education more than all those countries must be properly governed and managed to get positive results for the whole nation and it is our responsibility to do that.
Awards were offered to the drama group of the college who won the first prize in State Drama Festival 2017.
A special token of appreciation was offered by principle H. M. Abeykoon to the President.
Chief Sanghanayaka of North and North Central province, Anuradhapura Siri Sambodhi Viharaya Ven Nugatenne Pannananda Thero, Ministers Duminda Dissanayake, Chandrani Bandara, P. Harrison, Secretary of the Ministry of Education, Sunil Hettiarachchi, Principal, teachers, parents, old students and others were present at the occasion.
(President's Media)
Latest Headlines in Sri Lanka