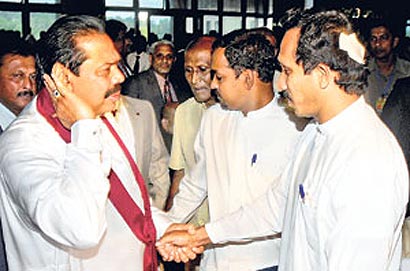 President Rajapaksa holding the hand of wounded JVP MP Sunil Handunnetti, trying to listen to what was being said amidst the din at the Parliament canteen where the customary Budget tea party was hosted. Pic by Gemunu Wellage
Veteran ministers given big posts but little power
UNP infighting worsens: Young MPs slam Ranil while Sajith gets police escort
The first decade of this new millennium ends in just five weeks. For Sri Lanka, the dawn of a new one assumes greater significance in the light of unprecedented political developments, particularly in the recent months.
In October, this year, Mahinda Rajapaksa became arguably the most powerful President under the republican constitution. Indeed, he is the most powerful in Sri Lanka today. Through the 18th Amendment, he removed the restriction on a two-term incumbency and empowered the President to appoint what were previously dubbed as "independent commissions," senior judges and the Auditor General among others, These "independent" bodies included the Elections Commission, the Public Service Commission, the National Police Commission, the Human Rights Commission and the Commission to Investigate Bribery or Corruption.
This week, the chair occupied in Parliament by Prime Minister D.M. Jayaratne was reserved for President Rajapaksa. The amendment paved the way for this. He will be on hand to take on the opposition's questions, to defend the UPFA government and deliver statements.
In particular, the appointment of the Commission to Investigate Bribery or Corruption is long overdue. In March this year, the term of office of this Commission expired. With no leadership at the top, the Commission is unable to move ahead dealing with important complaints, particularly at a time when post-war development activity is at a higher pace and talk of corruption rampant. It almost seems as if the administration has given bribery and corruption a holiday. In his address to the nation after being sworn in for a second term, Rajapaksa declared, "We need a land free of a lawless underworld, racketeering, extortion and the carrying of illegal weapons or drugs; a land free of corruption and inefficiency."
Indian scandals
Significant enough, the latest developments in India over bribery and corruption are relevant even to Sri Lanka today. Hardly two weeks ago, the reputed Indian newsmagazine Outlook based in New Delhi, published as a cover a story exposure on the 2G (second generation) Spectrum (for mobile phones) scandal which cost the Indian public exchequer Rs (Indian) 1,76,379 Crore (calculation was provided by India's Controller and Auditor General's office in one of its recent reports) or a whopping Sri Lanka rupees 4,278 billion.
While at the centre of the scandal is Andimuthu Raja, the former Telecommunications Minister from the Congress Government's alliance partner Dravida Munnetra Kazhagam (DMK), the Outlook story really focussed on what it called India's big lobbyists from the worlds of politics, business, public relations and journalism.
Raja had allegedly made 2G Spectrum allocations to businesses in unlawful ways during his tenure as minister. The story titled – The 2G Scam Tapes – with photographs of influential politicians, industrialists and journalists on the cover page, is based on telephone conversations between a woman called Niira Radia (whose PR firm has clients such as the Tatas and the Mukesh Ambani group) and important people from different sectors.
Radia is also a political lobbyist whose phones had been tapped by India's income tax department last year. (NOTE: Tax officials in India, like their intelligence agencies, monitor phone calls to track down tax evaders but they need the approval of the Home Ministry) "More than 104 conversations involving Radia that were tapped by the income tax department expose a systemic rot," the Outlook said. The newsmagazine also put out audio tapes of the conversations on its website (www.outlookindia.com). Lawyer Prashant Bhushan who has filed public interest litigation seeking Raja's prosecution has submitted to India's Supreme Court the audio tapes.
Excerpts from the Outlook story make some chilling revelations: "India, the republic, is now on sale. Participating in the auction is a group of powerful individuals, corporate houses, lobbyists, bureaucrats and journalists. Just before the 2G spectrum allocation scam became breaking news, the Income-Tax department was busy tapping the phones of Niira Radia, a lobbyist whose clients, the Tatas and Mukesh Ambani's Reliance Industries Ltd., have interests in several key sectors such as telecom, petroleum and natural gas."
"Radia conversations show how even cabinet berths can be decided by this select oligarchy. Her interface with discredited (former) telecom minister A Raja, DMK MP Kanimozhi (Karunanidhi's daughter) and Ranjan Bhattacharya, the foster son-in-law of former prime minister Atal Behari Vajpayee, shows how successfully she lobbied for several cabinet berths. The transcripts suggest that journalists Vir Sanghvi and Barkha Dutt also lobbied for Raja with the Congress Party. However, both journalists, in separate statements decried the use of the label "lobbyist" and termed their conversations with Radia as part of their normal journalistic duties."
(Note: This paragraph names other senior journalists and refers to their conversations with Radia on issues ranging from telecom to the dispute between the Ambani brothers over gas pricing)
"The reaction of the Congress leadership is surprising since all these tapes were available to Prime Minister Manmohan Singh, Pranab Mukherjee and P Chidambaram in their capacity as finance ministers in the two UPA governments. Regardless of the existence of the tapes, the Congress leadership agreed to re-induct Raja with the telecom portfolio into the UPA-II Cabinet."
"The tapes also paint a dismal picture of how everything – from cabinet berths to natural resources – is now available for the right price," says the Outlook expose. Sri Lanka's Opposition Leader Ranil Wickremesinghe who is currently in Bangkok addressing a Rotary meeting was to refer to a joke about India being now a "Scam Raj" (please see ST-2 cover page for extracts of his speech).
In Sri Lanka, the appointment of a Parliamentary Council, also part of the 18th Amendment to the Constitution, is now in place. Though opposition leader Wickremesinghe, first nominated Tamil National Alliance (TNA) parliamentarian M.A. Sumanthiran, the latter declined to accept the job.
Then, Wickremesinghe declared that since the opposition had not endorsed the 18th Amendment to the Constitution, he would continue to nominate others and declared the government would continue to reject them (because the nominee would not be willing). Later, Wickremesinghe nominated United National Party (UNP) National List parliamentarian D.M. Swaminathan (with whom he is in Bangkok right now). He has not yet withdrawn. Nor has the Parliamentary Council had its first meeting.
In what appears to be a further effort to demonstrate that the opposition is not taking this Council seriously, UNP sources claim Swaminathan may keep away from the Council meetings. If that claim is correct, it highlights the opposition's jaunty approach changing stances periodically over vital issues. The Council's only responsibility is to make "observations" when the President consults them on appointments to the high positions described above. Thus, the coming weeks will see the emergence of many a new face in top slots.
Ten 'Seniors'
Last Monday, Rajapaksa enlarged his cabinet of ministers from 41 to 61. He created a new category of 'senior ministers'. Those sworn in as senior ministers were Ratnasiri Wickremenayake (Good Governance and Infrastructure Facilities), D.E.W. Gunasekera (Human Resources), Athauda Seneviratne (Rural Affairs), P. Dayaratne (Food and Nutrition), A.H.M. Fowzie, (Urban Affairs), S.B. Nawinna (Consumer Welfare), Piyasena Gamage (National Assets), Professor Tissa Vitharana (Scientific Affairs) and Dr. Sarath Amunugama (International Monetary Co-operation). Milroy Fernando who was away in Rome for the Vatican ceremony to confer the post of Cardinal to Colombo's Archbishop Malcolm Ranjith was sworn in on Thursday (Social Welfare).
A former UPFA supporter and now an opposition parliamentarian, Wijeyadasa Rajapakse, raised issue over this in Parliament on Wednesday. He said that the appointments of senior ministers were unconstitutional since there was no legal provision. The move was to trigger a visit to Parliament on Thursday by Attorney General Mohan Peiris. He told a meeting that their appointments were legal and was not in conflict with any law. He said the word 'senior' was used within brackets in their title and that did not conflict with any law or the constitution.
However, the issue of finding accommodation for these ten ministers, their functions and secretaries to their ministries is yet to be finalised. Although there was speculation that the ten ministers were to be called upon to have offices under one roof, the matter will be finalised only next week. Presidential Secretary Lalith Weeratunga who was on a short visit abroad returned to Sri Lanka late Thursday. He is to chair a meeting with the ten (senior) ministers to discuss matters relating to their work, location of ministries and related modalities.
There was also the announcement that these 'senior' ministers can attend cabinet meetings whenever they wish. One goes on the basis that cabinet ministers must attend cabinet meetings in all cases. This is as if to say; "come if you want", to these senior ministers. One of those most disappointed appears to be former Prime Minister Ratnasiri Wickremenayake, once a close ally of former President Chandrika Bandaranaike Kumaratunga. Several weeks earlier, during meetings with constituents in Horana, he declared the post of Prime Minister would be restored to him in November. On the other hand, when a new cabinet was sworn in after the parliamentary elections in April, there was speculation that the current Prime Minister, D.M. Jayaratne, would give way to Economic Development Minister Basil Rajapaksa, However, it is now clear there will be no change and Jayaratne will continue in office.
Wickremenayake's new portfolio raises the question of which specific subjects will be assigned to him. Good governance, the first title of his portfolio, is a responsibility for all cabinet ministers and MPs. Developing infrastructure, the second title, is a subject that is tackled by most ministers whose portfolios are development oriented. Similar issues arise over the portfolio assigned to D.E.W. Gunasekera, until last week Minister of Rehabilitation and Prison Reforms. His new portfolio of Human Resources appears superficial. Most ministries have their own human resources divisions though a few may function under other names.
A.H.M. Fowzie, the former Minister of Disaster Management, is to handle Urban Affairs. The Urban Development Authority (UDA) is now under the Ministry of Defence. It has already embarked on development programmes in a number of towns. Moreover, urban affairs have remained a subject under the Ministry of Local Government. The portfolio of National Assets to Piyasena Gamage is also similar. He complained of his former portfolio (Indigenous Medicine). Tissa Vitharana (Scientific Affairs) holds functions similar to Ms Pavithra Wanniarachchi (Technology and Research).
The addition of 19 more ministers to the cabinet also created some grey areas in the portfolios assigned. To accommodate them, subjects from some ministries have been stripped or new assignments created. Some examples: Mervyn Silva (former Deputy Minister of Highways) has been assigned the new portfolio of Public Co-ordination and Public Affairs, Lakshman Seneviratne (who crossed over from the UNP) holds the subject of Productivity Promotion. Former Deputy Minister of Finance, Ranjith Siyambalapitiya has been assigned Telecommunication and Information Technology leaving only Postal Services to Jeevan Kumaratunga. Jagath Balasuriya is Minister of National Heritage whilst T.B.Ekanayake is Minister of Culture and Aesthetic Studies.
C.B. Ratnayake has been made Minister of Private Transport Services. The Department of Motor Traffic and the National Transport Commission will come under him. This is whilst Kumara Welgama continues to function as the Minister of Transport. Jagath Pushpakumara has been assigned Coconut Development and State Plantations Development whilst Mahinda Samarasinghe continues as Minister of Plantations. In addition, Reginold Cooray is assigned Small Exports Crop Promotion, which was until last Monday a responsibility of the Export Development Board.
The appointment of senior ministers, political observers believe, has manifold connotations. With the exception of two – P. Dayaratne and Sarath Amunugama – both of whom crossed over from the UNP, the remaining seven were once strong loyalists of late Sirimavo Bandaranaike or former President Chandrika Bandaranaike Kumarartunga. As the word "senior" implies, these ministers have been categorised separately from their ministerial colleagues in the cabinet. If one is to draw a parallel between Sri Lankan citizens and senior citizens, the reference to the latter category implies they are older or put more harshly refers to those retired and those bordering retirement. Thus, the prospects of their receiving party nomination to contest any election again are grim.
Thus, the title enables them to enjoy the perquisites of a cabinet minister including attending weekly meetings. However, they would not be operational like their cabinet colleagues who are "ministers." In marked contrast to these appointments, observers say, Rajapaksa has consolidated his position further by appointing a team of ministers and deputies who are loyal and have supported him. They say he has thus surrounded himself with a formidable team to move forward during the next six years.
UPFA power grows
At the April parliamentary elections, the UPFA secured 143 seats in Parliament. During the debate on the 18th Amendment to the constitution, eight Sri Lanka Muslim Congress (SLMC) parliamentarians supported it. They have since chosen to back the UPFA. So did two MPs who won on the UNP ticket, P. Digamparam and Prabha Ganeshan, bringing the total to 145. Later seven parliamentarians of the United National Party also voted in favour of the amendment and are now with the UPFA bringing the UPFA total strength in Parliament to 161 without the Speaker.
Of this number, 95 are now ministers and deputy ministers. This leaves only 66 as ordinary MPs. Measures are in place to avoid any heartburn for them. A government source said each of them would receive a luxury Toyota Prado or Mitsubishi Pajero vehicle. The move has irked some Ministers who had to settle for the less luxurious locally assembled Rexton SUV. The opposition's strength in the 225 seat Parliament has dwindled to a mere 63 made up of UNP 43, TNA 13 and the Democratic National Alliance 7.
Rajapaksa, who is also Finance Minister, presented the first budget of his new six-year term on Monday. Detailed accounts appear elsewhere in the Sunday Times. However, some aspects warrant a reference. A five per cent pay hike in the form of a non-pensionable allowance for public sector and security personnel was announced. This is in addition to an increase in the Cost of Living Allowance by Rs 600 from January next year. The increase means an addition of a minimum of Rs 1,186.50 to a state sector employee whose lowest wage is Rs 11,720. However, Rajapaksa, during his presidential election campaign in January this year promised a wage hike of Rs 2,500 a month for the state sector.
At least a part of this new added income will go to pay their electricity bills. Rajapaksa announced an 8 per cent increase in tariff for those using more than 90 units per month. According to a Ceylon Electricity Board source, a state sector family would on an average use anything above 150 units a month. "It is only the poorer sections that use less than 90 units," he said. Another is the increase in overseas telephone call charges. In his budget speech, Rajapaksa noted that three million Sri Lankans overseas earned nearly four billion US dollars for the country annually. Their next of kin in Colombo are heavy users of international calls to keep in touch with those working abroad. This will compel them to fork out more.
Wickremesinghe under attack
The main opposition United National Party's (UNP) parliamentary group, which met in the House soon after the budget speech was delivered by Rajapaksa, decided to vote against it. Other than that, the meeting turned to be an acrimonious encounter between UNP leader Ranil Wickremesinghe and members who are backing Sajith Premadasa. It all began after Sujeeva Senasinghe (UNP- Colombo District) complained that the Kaduwela electorate had been divided in two.
Another party organiser, trade unionist Priyantha Pathberiya, has been placed in charge of one area whilst he was to look after the other. Senasinghe protested that this was unfair and said he should be in charge of the entire electorate. He charged that this was against an assurance given to him and accused Wickremesinghe of being a "liar". An infuriated Wickremesinghe asked him to sit down but Senasinghe continued. He said he had not been consulted. "I am the one who brought you into politics," Wickremesinghe was to tell Senasinghe, but Senasinghe was not interested. He continued to attack Wickremesinghe in strong language.
Buddhika Pathirana (UNP – Matara Disrtrict) was to complain that in his electorate too, another had been appointed. He said it was one Chaminda Talgaswatte and his name has been picked without consulting him, being the party MP in the district. "There is no Chaminda. We have asked key people in the area to nominate persons. When I made you a candidate, you were not even the organiser in the district," Wickremesinghe responded. He was to tell party seniors later "I am the one who brought Buddhika also into politics." During the hot exchange of words, both these young speakers made personal abuses against Wickremesinghe and those with whom he closely associated.
Sajith Premadasa joined in to say that the December 12 annual sessions of the UNP should not be held at party headquarters, Siri Kotha. He contested media reports that had claimed that the parliamentary group had taken a decision to hold the convention at party headquarters. These reports prompted eleven UNP parliamentarians to write a joint letter to say the group had not taken such a decision. General Secretary Tissa Attanayake was to respond by saying that it was not the group but a committee that had taken this decision.
The committee headed by deputy leader Karu Jayasuriya was named by Wickremesinghe to make arrangements for the December 12 annual sessions of the party. The move came amidst wild speculation that sections in the party may seek an injunction in courts to stall the sessions. However, Wickremesinghe told the Sunday Times, "We have decided to hold the UNP annual sessions on December 12 and there is no change in that decision. The committee making arrangements met and briefed me. I am quite satisfied. We are all anxious that it should be held.
"This is a special session where the new Constitution of the party will be adopted. Thereafter, it will go back to the Working Committee for endorsement and formally approved by another special session summoned under the new Constitution. That will take place somewhere mid next year. I have asked the committee to go into this matter," he added.
Premadasa protected
The party's Grama Charika continued with its third journey last weekend. The differences within the party were more apparent to its members at Kundasale where eight different events were held in the electorate. The ninth one came in the form of Sasunata Aruna programme of Hambantota District parliamentarian Sajith Premadasa. He also made contributions of Rs 50,000 to three different Buddhist temples. In marked contrast to different meetings chaired by leader Wickremesinghe and deputy Jayasuriya, Premadasa's meeting saw a truckload of police officers providing security.
They also escorted him when he travelled to temples. He had no problems with his Sasunata Aruna posters plastered on walls and pillars in the area. However, Police removed the UNP posters. General Secretary Attanayake had questioned one of them and was told they were being done on "ihalen apu niyoga anuwa" or (on orders that came from the top). The contrast in police security provided to Premadasa and others who took part in the Grama Charika programme was the talking point among some UNP seniors. If questions over how he received funds to donate to temples were raised earlier, these seniors said he had government backing and was thereafter endowed with greater security. However, Premadasa loyalists claimed he was given more protection only because he was engaging in religious events and not at a political rally.
Thus, the UNP, the country's main opposition survives with its leaders agreeing to disagree on most occasions. The direction they are headed will become clearer on December 12 when the party's annual sessions get under way.
Rajapaksa PR
As for the UPFA government, President Rajapaksa who holds the reins tightly, is confidently charting a course with his new team of confidants. Helping him, besides wielding unprecedented power, is his public relations acumen.
Last Monday, parliamentarians of the Janatha Vimukthi Peramuna (JVP) attended the traditional tea party during the budget speech in Parliament. Rajapaksa shook hands with Sunil Handunetti. It was only the previous week; Handunetti was brutally assaulted by unknown persons when he was at a meeting related to a demand to release Tiger guerrilla suspects in custody. The JVP blamed members of the Military Intelligence for the attack, a charge strongly denied by Army spokesman Major General Udaya Madawala. Rajapaksa's public relations stunt had its reverberations at the Welikade prison. Former General Sarath Fonseka was furious the JVP, which is a constituent of the Democratic National Alliance (DNA) he leads, had attended the reception. Worse enough, he was even more angry that Handunetti had shaken hands with Rajapaksa.
He conveyed his feelings to DNA's Arjuna Ranatunga (Kalutara District). He said that the DNA should have decided to boycott the budget and the President's tea party. He said that JVP members should not have travelled to Jaffna to espouse the cause of guerrilla suspects in custody. They should have focused on the floods in Colombo which had affected a large number of people.
Absolute power and PR, no doubt, have taken Rajapaksa a long way. Amidst this, the bickering in the opposition continues.
Source: ST Online