Serve public devoid of political differences – President
Posted by Editor on March 27, 2018 - 8:17 am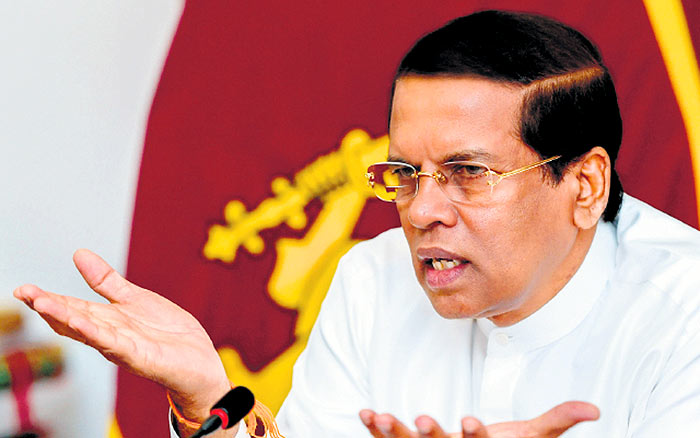 Although parties contest elections as separate entities they should render a service to the public devoid of political differences after winning the elections, President Maithripala Sirisena said.
The President made this observation addressing SLFP members elected to Local Council elections in the Polonnaruwa district at their oath taking ceremony held under his patronage.
The ceremony took place at the Polonnaruwa Royal Primary College auditorium last morning.
The President said whoever acted with pride about the election victory the fact remains that even a single political party which contested the election could not obtain more than 40 percent of the valid votes.
"If this happened to be a general election no party would have been able to form a government of its own according to available reports.
When you compared the votes received by the SLFP no other party would have been able to form a government without SLFP support," President Sirisena said.
"As such no one should be either upset or overjoyed about the recent election result, the President said adding that based on this election result he would steer the SLFP forward as a victorious party in the future," the President said. He assured that as SLFP President he would make all necessary arrangements for this without any lapse. The President who emphasised that the newly elected members should act with discipline and humility to create a good and positive political culture advised them to perform their duties and responsibilities to the people properly. SLFP members elected to the Tamankaduwa UC and Tamankaduwa, Dimbulagala, Welikanda, Hingurakgoda, Lankapura, Medirigiriya and Elahera Pradeshiya Sabhas took their oaths before the President at the ceremony.
Copies of the biographies of 'Mahatma Gandhi' and 'Nelson Mandela' were also presented to the newly elected Local Government members by the President at this ceremony.
A large number of provincial politicians were also present at the ceremony.
(Source: Daily News)
Latest Headlines in Sri Lanka