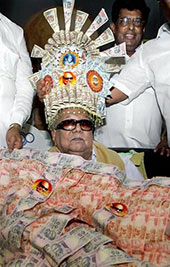 Submitted by Walter Jayawardhana
Flaying the Bharatiya Janata Party (BJP) and the All India Anna Dravida Munnetra Kazhagam (AIADMK) for their stand on Sethusamudram project, DMK chief M Karunanidhi on Sunday said the national party while in power had proposed the alignment for the project which involves dredging of 'Ram Setu' or Adam's Bridge, which it is firmly opposed to now.
Asking Centre to expedite steps to ensure a favourable verdict on the matter in the Supreme Court, the key UPA ally also said "some communal forces" had moved the apex court with a view to creating roadblocks.
"After considering various proposals over the route, then NDA government under A B Vajpayee had decided to implement the project on Alignment No.6 which involves the Adam's Bridge.
"Having forgotten that and now opposing dredging of Ram setu… the conflict (in BJP's stand) should be thought about," he said in a statement here.
The Pachauri Committee, which submitted its report to the Supreme Court, has said the Sethusamudram shipping channel project is not viable on economic and ecological grounds.
Government has rejected the report and maintained that it intends to pursue the project which will cut through the Adam's Bridge, popularly known as Ram Sethu.
BJP spokesperson Ravishankar Prasad had said his party and the nation "will not tolerate" any tampering with the Ram Sethu.
On AIADMK chief Jayalalithaa's demand to the Prime Minister that Rama Sethu be declared a national monument, Mr. Karunanidhi said the Tamil Nadu Chief Minister had claimed in 2005 that it was due to her efforts that preliminary work on the project was initiated in 1998 and that she had been a reason for its taking shape.
The party had in its 2001 poll manifesto also spoke in favour of the Sethusamudram project, he said and added she had turned against it since she didn't want DMK to take credit.
Recalling that Prime Minister Manmohan Singh and UPA Chairperson Sonia Gandhi besides himself, then Chief Minister, had attended the inauguration of the project at Madurai, Mr. Karunanidhi said even then some had unsuccessfully approached the Supreme Court for a stay against the function.
"With the project going at good pace under then Shipping Minister T R Baalu, some communal forces had taken the issue to the Supreme Court with a view to creating roadblocks."
Centre should take steps to get a favourable verdict from the court and ensure a better livelihood for people of southern Tamil Nadu, he said.
Ram Sethu is the mythical bridge on which Lord Ram and his army crossed the sea to invade Ravan's kingdom. The project envisages dredging of a shipping channel across the Palk Straits between India and Sri Lanka. (Courtesy: The Hindu)