SF petition:Polls chief given time till Oct.3
Posted by Editor on August 30, 2011 - 9:29 am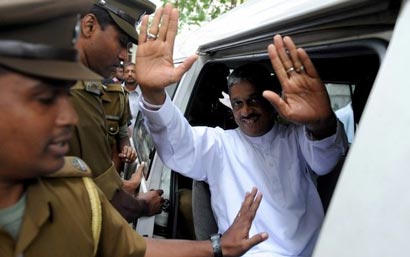 The Court of Appeal yesterday granted time till October 3 to the Elections Commissioner to file objections in respect of the writ petition filed by former Army Commander Sarath Fonseka who seeks to have his seat in parliament restored.
The matter was taken up for inquiry by a Bench comprising Justices W.L. Ranjith Silva and Upaly Abeyratne.
Parliament Secretary General Dhammika Kithulegoda, Deputy Secretary General Dhammika Dassanayake, the Elections Commissioner, Returning Officer J. Sylvester, Prisons Chief V. R. de Silva, Army Commander Jagath Jayasuriya, Lakshman Nipunarachchi and the Attorney General were cited as respondents.
Counsel Romesh de Silva with Saliya Peiris, Sugath Caldera, Riad Ameen, Shanaka Cooray and Eraj de Silva instructed by Paul Ratnayake Associates appeared for Mr. Fonseka while Deputy Solicitor General Farzana Jameel with Senior State Counsel Arjuna Obeysekera appeared for the Attorney General. Counsel M. A. Sumanthiran appeared for Jayantha Ketagoda.
Mr. Fonseka is asking the Court to issue an interim order suspending the operation of the letters until the final determination of this application.
He is also seeking the Court to stay the operation of the Gazette Notification declaring the 7th Respondent as being duly elected as a Member of Parliament from the Colombo District until the final determination of this application.
He is asking the Court to grant and issue mandates in the nature of Writs of Certiorari quashing (i) The decision of the 2nd Respondent (acting for and on behalf of the 1st Respondent) informing the 3rd Respondent that in terms of Section 64(1) of the Parliamentary Elections Act that the Petitioner's seat as a Member of Parliament has fallen vacant; (ii) the direction made by the 3rd Respondent to the 4th Respondent to fill the vacancy in terms of Article 99 (13) (b) of the Constitution; (iii) the decision by the 4th Respondent to send a return to the 3rd Respondent containing the name of the 7th Respondent in order to publish his name in the Gazette as the Member of Parliament for the Colombo District for the purported vacancy; and (vi) the Gazette Notification  causing the name of the 7th Respondent to be published as being declared elected to Parliament
Mr. Fonseka is also asking the Court to grant and issue a mandate in the nature of a Writ of Mandamus directing the 1st and 5th Respondents to take all necessary steps according to law to enable the Petitioner to sit and vote in Parliament and to exercise his powers, privileges and immunities as a Member of Parliament.
Courtesy: DM Online
Latest Headlines in Sri Lanka