Shavendra Silva Dismantles the Channel 4 Lie
Posted by Editor on June 23, 2011 - 9:21 pm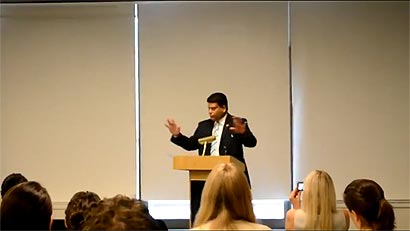 Answers offered by Sri Lanka's make Ch 4 conspirators speechless
The Sri Lankan Ambassador and Deputy Permanent Representative to the UN, Major General Shavendra Silva has been able to dismantle the fake allegations of human rights violations and war crimes leveled at Sri Lanka through the Channel 4 video at a meeting held at the Church Center in New York recently. (21)
The meeting was organized by three well known humanitarian organizations, Amnesty International, Human Rights Watch and the International Crisis Group indenting to exert pressure on Sri Lanka by screening the Channel 4 documentary to the representatives of all member countries of the UN.
The fact finding session was held thereafter and Major General Shavendra Silva brought forth a number of points proving the incidents in the documentary contain false information and its a mere dramatic presentation based on false facts with a plan to discredit Sri Lanka.
Major General Shavendra Silva showed that the so called evidences in the documentary are given by a female, Venni Kumar who appears under three names in different places. As such, he questioned the credibility of the documentary which is based on the evidence given by a single female who was said to have been in Sri Lanka six months before the end of the war, but actually had come to the island in 2008, January.
He further said that, the doctor who appears on the documentary giving proof of war crimes committed by Sri Lankan forces had revealed that the LTTE forced them to act and pretend in front of the camera, at an interview done by the Rupavahini Cooperation, the national television channel in Sri Lanka.
The producers of the documentary were also present at the meeting and the audience was convinced that the documentary was based on false facts.   Major General Shavendra Silva's effort would possibly give zero credibility and value to any efforts taken in tarnishing the image of Sri Lanka in future.
-SS-
Source: Government News Portal
Latest Headlines in Sri Lanka