Shortage experienced in many parts of the country
Posted by Editor on December 15, 2011 - 9:44 am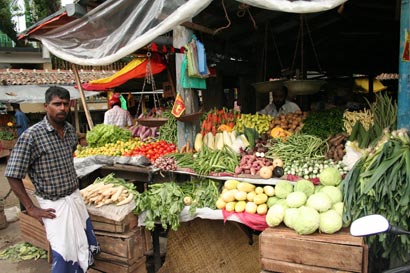 Amid protests in Colombo and the suburbs intensifying yesterday over the use of plastic crates to transport vegetables and fruits, a compromise was reached at the Dambulla Economic Centre among the security forces, traders and farmers to continue with the customary form of packaging. The three-day crisis has caused a severe countrywide shortage of fruits and vegetables with prices of such items sky rocketing.
However, Internal Trade Minister Johnston Fernando vowed to stick to his decision to make it compulsory to transport fruits and vegetables in plastic crates for the greater good of the consumer.
Protest marches in Colombo Fort turned violent with the protesters nearly clashing with the police. Protests were held in Tambuttegama, Nuwara Eliya, Ratnapura and Bandarawela.
Meanwhile, Internal Trade Ministry Secretary Sunil Sirisena said plastic crates to transport vegetables and fruits were introduced following a recommendation by the Food Security Committee and the Post-Harvest Technology Institute after analysing the huge losses on vegetables and fruits during transport.
He rejected allegations that plastic crates were introduced to allow someone connected to the ministry to make money.
Courtesy: DM Online
Latest Headlines in Sri Lanka