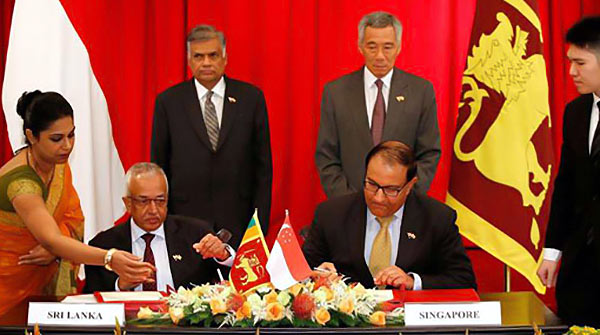 Singapore businesses said they are bullish about the Sri Lanka market, and expect to benefit considerably from a free trade agreement (FTA) that both countries will sign today.
One area they have high hopes for is tariff reduction, as imported goods sometimes face tariffs of up to 60 per cent to 80 per cent.
Details of the deal will be unveiled after its signing today at the Presidential Secretariat, witnessed by President Maithripala Sirisena and Prime Minister Lee Hsien Loong, who is on an official visit.
But amid cheers, a backlash against the FTA by domestic groups indicates a protectionist reflex that Singapore firms say is one of the challenges they have to deal with.
"Sri Lanka is a promising market for Singapore SMEs. (It offers) compelling business opportunities at sizes digestible by Singapore companies," said Singapore Business Federation chairman Teo Siong Seng, who is leading a delegation in conjunction with PM Lee's visit.
Sectors of interest include information and communications technology, real estate, hospitality and tourism, as well as energy and logistics, he noted.
"The new pro-business government has been working hard to attract investments and introduce reforms," he added, referring to the government led by Prime Minister Ranil Wickremesinghe that took office in 2015.
One clear boon from the country's open stance is better infrastructure due to investment from China.
Mr Malaravan Ron, Singapore owner of capsule hotel Star Anise, said the drive from Colombo to nearby city Galle now takes 21/2 hours, down from six hours, after the Chinese built better roads.
Star Anise, South Asia's first capsule hotel, opened in Colombo in 2016. It can house 44 guests in capsules of 2m by 1.9m or smaller. With high occupancy rates, two more hotels in Sri Lanka are in the works.
"Singapore firms have an edge here because of Singapore's good image," said Star Anise director Vigneswaran Mohan.
Singapore-based Pastamania is also expanding into Sri Lanka.
Mr Wilson Lim, executive director at Commonwealth Capital which owns the restaurant's franchise, said Sri Lanka's higher per capita gross domestic product than India makes it an ideal springboard into the region.
If the FTA can lower the existing high tariffs on foods, it will be a boost for Singapore firms, he added.
Prima Group general manager for Sri Lanka Tan Beng Chuan agrees tariff reduction is vital. Prima owns a flour mill in Sri Lanka and has invested US$250 million (S$330 million) in the country since 1977.
Mr Tan said Prima also hopes this FTA triggers more FTAs between Sri Lanka and other trading partners, including China and other Asean countries.
But the FTA has drawn nays too. Professional groups were reported saying "they have not provided any consent" to the FTA.
While the Sri Lankan government has consulted them on the deal, their consent is not required.
Singapore firms also face other challenges.
When Star Anise was being renovated, competitors got the police to check on it, to verify its licences, said Mr Vigneswaran. There is also red tape, he noted, though less compared to India.
Other challenges he cited include a lack of skilled and English-speaking staff and high electricity prices.
But such issues can be outweighed by the faster growth here, and an FTA will further encourage firms to consider Sri Lanka.
The new government is also doing more to help businesses.
Mr Teo said: "Challenges like bureaucracy and (the lack of) clarity on policies have been raised, but we understand from Singapore companies that the government here listens, and has resolved issues."
(Source: The Straits Times)