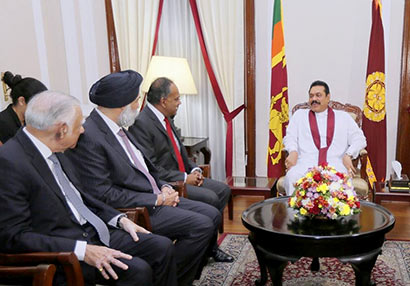 Singapore Minister for Foreign Affairs and Minister for Law, Mr. K. Shanmugam, during a meeting with President Mahinda Rajapaksa at the President's Office this evening, called on countries to engage constructively with Sri Lanka and look to the future rather than dwell on the past.
Mr. Shanmugam said one of the main objectives of his visit is to "tell the world what the (Sri Lankan) people really need is development. What people are really interested in is their future and their children's future," he said.
The Singapore Government is supporting several projects in the North such as a mobile library and an English teacher training program, which Mr. Shanmugam will be launching tomorrow when he travels to Jaffna. President Rajapaksa urged the Foreign Minister to consider launching similar training programs elsewhere in the island as well.
The Singaporean Foreign Minister said he believes that relations between the two countries are strengthening including improved people-to-people interactions as well as between the business communities of the two nations.
Describing the relationship between Sri Lanka and Singapore as "very good," Mr. Shanmugam said, "We hope this can carry on with this positive momentum."
The Non-Resident High Commissioner of Singapore to Sri Lanka Mr. Karan Singh Thakral and the Executive Chairman of the Institute of South Asian Studies at the National University of Singapore Ambassador Gopinath Pillai accompanied the Singapore Foreign Minister.
Minister of External Affairs Prof. G.L. Peiris, Secretary to the President Mr. Lalith Weeratunga and Secretary of the Ministry of External Affairs Mrs. Kshenuka Seneviratne were also present for the bilateral discussion.
(President Media)