God wants Sanga and Mahela to win World T-20 says Sammy
Posted by Editor on April 5, 2014 - 8:34 am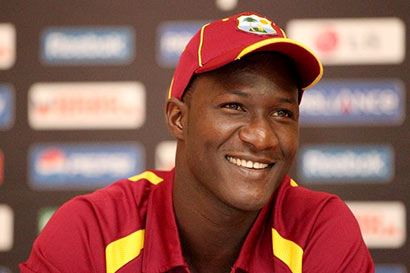 West Indies skipper Darren Sammy, after his side was eliminated in the semi-finals of the World T-20 on Thursday, won the admiration of Sri Lankan fans when he said that God did not want Kumar Sangakkara and Mahela Jayawardene to retire without winning a global event.
Both Sangakkara and Jayawardene have phenomenal batting records, having scored over 11,000 runs in Test and ODI cricket.
While Sangakkara led Sri Lanka to the 2009 World T-20 and 2011 World Cup finals, Jayawardene captained Sri Lanka to the final of the 2007 World Cup and 2012 World T-20. On all four occasions, Sri Lanka faulted at the last hurdle, which resulted in their fans feeling sad, to say the least.
West Indies, the defending champions of World T-20 were knocked out in the semi-finals. Sammy was philosophical at the post match presentation, "disappointing to come out of the tournament like this, but credit to Sri Lanka," Sammy said. "Sri Lanka won the toss, batted first. Probably they knew that some (bad) weather was around. But we have had a good run in this tournament, it is just sad that we got knocked out by the D/L system. But that's life. You move on and we will start planning for the next T20 World Cup.
"I took it like 'you know what, we have won a World Cup'. We are a praying team, we know God normally answers our prayers, but today, I guess two gentlemen who have played for Sri Lanka, given a lot not only to Sri Lanka cricket but cricket on the whole, I guess the Almighty wants them to leave on a high, so I guess they have one more game to try and win a World Cup and leave on a high. Probably that's the reason why God put a hand in this match. I am sure I will have another shot at playing the T20 World Cup and we are looking forward to winning it again in the near future," Sammy added.
Both Sangakkara and Jayawardene have announced that this will be their last World T-20.
(The Island)
Latest Headlines in Sri Lanka