Gota says – Army in North to prevent another war
Posted by Editor on April 5, 2014 - 10:07 am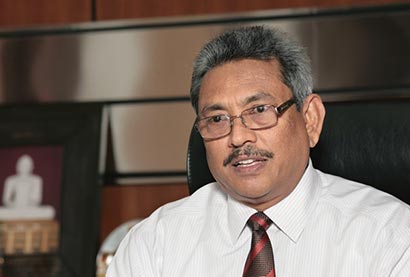 Secretary to the Ministry of Defence and Urban Development, Gotabhaya Rajapaksa, said the Army is stationed in the North, in order to prevent another militant uprising and to serve the civilians affected by the war.Rajapaksa was speaking at an event in Keppapilavu in the Mullaitivu District where 101 houses built by the army personnel were handed over to the homeless civilians in the region.
The Defence Secretary also said for 30 years the country suffered a ruthless war. "The innocent civilians in the North and East led a miserable life. However, with the annihilation of the LTTE, people are living peacefully in the North. The government is particular that there should not be another war in the country and it is for this reason the Army has been placed in a limited way in the North.
The Army will not be a hindrance to the civilians. Every camp in the North looks forward to serve the civilians.
"We could see that the people of all communities are living in peace in the South. Therefore, we want the people to live amicably with other communities in the North as well," he said.
The Defence Secretary added the government was on the process of expediting the resettlement and returning the lands to their original owners.
"During the first phase of the resettlement process, 50 houses were built and they were handed over to the homeless people. Now 101 houses have been built and handed over to the civilians. Nearly 98% of the displaced people have been resettled in their original places.
Due to certain inevitable situations the resettlement process has been delayed in certain areas. In the due course, all resettlements would be carried out successfully.
"President Mahinda Rajapaksa wants the people to live in peace. Therefore, the Northerners should place their confidence on the government. We must forget the dreadful past and live in peace," Rajapaksa added.
(Ceylon Today)
Latest Headlines in Sri Lanka