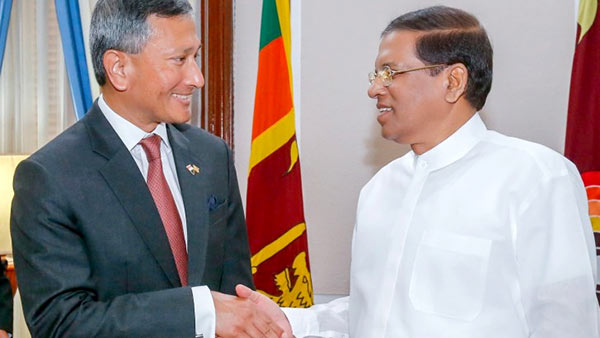 Singaporean Minister for Foreign Affairs, Dr Vivian Balakrishnan said the efforts made by President Maithripala Sirisena to strengthen reconciliation in Sri Lanka are laudable. Stating this when he called on President Sirisena at the Presidential Secretariat yesterday (July 18), he said that he would visit Jaffna tomorrow to donate books to the Jaffna Library and to sign an agreement to provide training facilities to the library staff. Singapore will also provide facilities to training facilities and set up a professorship at the Orthopedics Department of Jaffna Hospital.
President thanked Singapore for providing such assistance to Jaffna Library and Jaffna Hospital and recalled that Singapore and Sri Lanka have maintained excellent bilateral ties since ancient time. He also thanked Singapore for assisting Sri Lanka at the international forums during the conflict in Sri Lanka. Dr Balakrishnan immediately quipped that whatever Singapore was providing to Sri Lanka was only a 'repayment of intellectual endowment' received from high standard Sri Lankan professionals who augmented Singapore's progress over the years.
Dr Balakrishnan said there is immense potential to increase Singaporean investments in Sri Lanka. He said this in reply to President Sirisena's comment to him about the investment opportunities available in tourism and hospitality sectors for investors from Singapore. The Singaporean Minister said that Singaporean investors could also look at other sectors like energy, water, education and technology. Already there are over 300 Singaporean investments in Sri Lanka.
Expressing his appreciation of Sri Lanka's international relations, the Minister said, as a small nation living among powerful big neighbours, countries such as Singapore and Sri Lanka have to always maintain extra vigilance on power balance and external relations.
Minister Ravi Karunanayake, Secretary to the President, Austin Fernando, Foreign Secretary, Esala Weerakoon and Singaporean High Commissioner S Chandra Das were also present.
(President's Media)