Sinhalese have this as their only country – Vigneswaran
Posted by Editor on October 8, 2013 - 10:30 am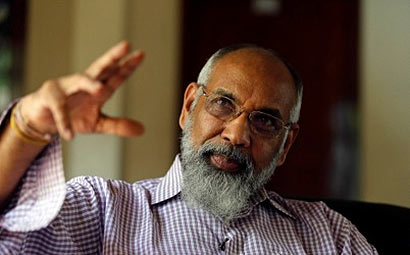 Sinhalese people have this as their only country. They feel insecure that there might be some joining together of Tamil Nadu and north-eastern Sri Lanka. That insecurity, has sometimes resulted in anti-Tamil brutality but I aim to change minds on both sides, Newly sworn in Chief Minister for North CV Vigneswaran says.
Former Supreme Court judge CV Vigneswaran has been sworn in as the new chief minister for Sri Lanka's north, after his Tamil National Alliance won a historic victory in elections last month.
The BBC's Charles Haviland spoke to Justice Vigneswaran before the election to find out what coaxed him out of retirement and into politics.
Asked what keeps him looking young for his age, the 74-year-old Canagasabapathy Viswalingam Vigneswaran says: "The secret of youthfulness may be that I was not involved in politics so far."
Now the former Supreme Court judge – who retired in 2004 – is heavily involved, but insists he was "pulled into politics" by his community rather than entering it.
We meet at a house set up for the party's activities in Jaffna where young activists dart around with cups of tea, and various journalists wait to see him and his 79-year-old party leader in the Tamil National Alliance (TNA), R Sampanthan.
Born in Colombo and educated at its Royal College, Justice Vigneswaran trained partially in Britain and, once back in his native country, moved upwards through its courts system.
Working as a judicial officer, he "never thought in terms of being Tamil or Sinhala, Burgher, English – there was no difference".
But he had to confront the ethnic issue in 1983 when he was a magistrate in Jaffna and conducted inquests into many Tamils killed in a national wave of anti-Tamil violence.
As a judge he presided in later cases involving suspected Tamil Tigers.
He sees the country's ethnic problem in this way: "Unfortunately there's a Sinhalese attitude to Tamils whichever government comes in.
"Sinhalese people have this as their only country. They feel insecure that there might be some joining together of Tamil Nadu [in India] and north-eastern Sri Lanka."
That insecurity, he says, has sometimes resulted in anti-Tamil brutality but his aim is to change minds on both sides.
"Make Sinhalese leaders understand our predicament and make Tamils feel sympathy to northern feelings," he says. "It might be possible to bring about peace in our country. I hope God will make it possible."
'A great hero'
Intense controversy was caused by his recent remarks in praise of the dead Tamil Tiger leader Velupillai Prabhakaran.
During the election campaign in Prabhakaran's home village, he called him "a great hero who fought for the freedom of the Tamil people".
Justice Vigneswaran says he meant it.
"This is the perception with regard to Prabhakaran as far as the Tamil people here are concerned. He may have been brutal but so is the government, those who are now in for a war crime inquiry internationally."
If the Sinhalese saw their war-time leaders as heroes, Tamils might conversely do the same.
Both sides had used questionable weapons and methods of assault, which might be revealed in future inquiries, Justice Vigneswaran says. Meanwhile, he himself favours non-violence, he adds.
The TNA's plans for self-determination in the north do not amount to a separatist agenda, the former judge insists.
Instead, the party is trying to put pre-existing laws into effect.
"We do not hate anybody, we do not have problems with anyone, we are only asking for our rights to exist by ourselves [as Tamils] recognising our own individuality."
A Colombo man who is now fully immersed in the concerns of the Tamils living in the north, C V Vigneswaran's own life, like that of many Sri Lankans, does not fit into a neat ethnic box.
A widower, both his sons are married to Sinhalese – one to the daughter of a cabinet minister, Vasudeva Nanayakkara.
He has two grand-daughters. With Mr Nanayakkara, who is a political leftist, "we pull along very well, we've no difficulties. He's a humanist, not a constricted human being."
Since retirement his main pursuits have been in the sphere of religion, specifically Hinduism, he says.
"I'm not sure there will be much time for it now," he adds with a grin.
(BBC)
Latest Headlines in Sri Lanka