A new milestone marked in Sri Lanka's thermal power generation
Posted by Editor on October 8, 2013 - 10:26 am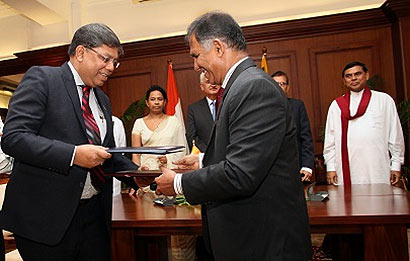 Further strengthening the ties between India and Sri Lanka, the agreement was signed for the proposed  Sampoor coal power station in Trincomalee Monday (7) at the Presidential Secretariat in Colombo.
The Ceylon Electricity Board signed the agreement on behalf of Sri Lanka while the National Thermal power Corporation  signed on behalf of India. Five agreements were signed related to the Sampoor Coal power project. The respective agreements were: Implementation Agreement, BOI Agreement, Land Lease Agreement, Power Purchase Agreement andCoal Supply Agreement
The initial discussions regarding the commencement of the Sampoor Coal power project was initiated during the visit of President Mahinda Rajapaksa to India in 2005.
The Sampoor Coal power project which was stalling due to various issues that arose, was expedited by the present Minister of Power and Energy Attorney Pavithra Wanniarachchi, under the instructions of the President and the guidance of the Minister of Economic Development Basil Rajapaksa.
Coal power generation is a more economically viable option in comparison to other thermal power generation methods, and is used the world over.
The Sampoor Coal power station is expected to contribute a power capacity of 500 MW to the National Grid. Hence it will pave the way to cater to the rising electricity demand in the country in keeping with the rapid development. The total cost of this project is estimated at US$ 512 million, while the project is expected to commence within a year from the date of the agreement and is expected to be completed and contribute to the National Grid by 2018.
The Sampoor Coal power station will comprise two 250 MW power generators. The power generated will be transported through high voltage transmission lines from Sampoor through Habarana to Veyangoda Sub Grid Station and connected to the National grid.
The administrative functions related to the Sampoor power station will be managed by the Trincomalee Power Company which is a joint venture between the CEB and India's  National Thermal power Corporation.
Among the distinguished personnel present during the signing of the agreement were the Minister of Economic Development Basil Rajapaksa, the Minister of Power and Energy Attorney Pavithra Wanniarachchi, Minister of Foreign Affairs Professor G.L. Peiris, Minister for Investment Promotion Lakshman Yapa Abeywardena, the Indian External Affairs Minister Salman Kurshid, Secretary to the President Lalith Weeratunge,Secretary Ministry Of Power & Energy MMC Ferdinando,Chairman CEB WB Ganegala,Chairman and Managing Director NTPC Dr Arup Roy Choudhry,and  the Director NTPC (Commercial  I J Kapoor)
(Courtesy: Government News Portal)
Latest Headlines in Sri Lanka