Canada PM to miss Commonwealth summit, cites Sri Lanka rights
Posted by Editor on October 8, 2013 - 8:20 am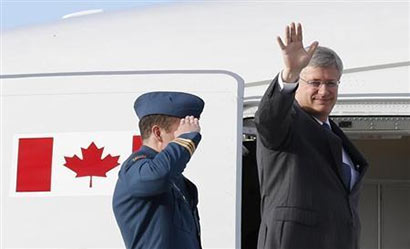 (Reuters) – Canadian Prime Minister Stephen Harper said on Monday he would not attend a November summit of the Commonwealth in Sri Lanka because of what he called human rights abuses on the island.
"We remain disturbed by ongoing reports of intimidation and incarceration of political leaders and journalists, harassment of minorities, reported disappearances, and allegations of extra judicial killings," he said in a statement.
Sri Lanka's envoy to Canada disputed Harper's comments. The U.N.'s human rights chief said last month that Sri Lanka could be sliding toward an authoritarian system as President Mahinda Rajapaksa gathered power around him.
Harper is the only leader from the Commonwealth, which groups Britain and many former colonies, to announce he will boycott the November summit. Britain also has criticized human rights in Sri Lanka.
Harper said it was unacceptable that Sri Lanka had yet to investigate allegations of atrocities during and after a long civil war with Tamil rebels, which ended in 2009. Sri Lanka has long dismissed allegations its troops committed major crimes.
"It is clear that the Sri Lankan government has failed to uphold the Commonwealth's core values, which are cherished by Canadians … I will not attend the 2013 Commonwealth Heads of Government meeting in Colombo," he said.
Chitranganee Wagiswara, Sri Lanka's high commissioner to Canada, disputed the idea that the human rights situation was bad.
"We don't accept what is being said," she told Reuters by telephone, saying Harper himself had noted advances in human rights in 2011.
"We know maybe there are many areas to (still) address but at the same time, over the last short period of four years we have made progress which is recognized by most in the international community," she said.
Canada will be represented in Colombo by Deepak Obhrai, the parliamentary secretary to Foreign Minister John Baird. Wagiswara said no Commonwealth summit had ever seen 100 percent attendance by all the grouping's leaders.
Harper also said he had asked Baird to review Canada's financial contributions to Commonwealth programs as well as the organization's London-based secretariat.
(Reuters)
Latest Headlines in Sri Lanka