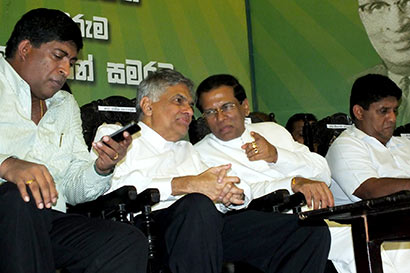 Opposition Common Presidential Candidate Maithripala Sirisena received a rousing welcome when he arrived at the UNP headquarters, Sirikotha, yesterday.
Sirisena, flanked by UNP national leader Ranil Wickremeisnghe, Chairman of the Leadership Council Karu Jayasuriya, General Secretary Tissa Attanayake, Deputy Leader Sajith Premadasa, Assistant Leader Ravi Karunanayake and several other MPs, addressed a gathering there for the first time.
Sirisena also opened an election operation office at Sirikotha to handle the Opposition's presidential election campaign.
UPFA Vanni district MP Hunais Farook joined the UNP, pledging his support to Maithripala Sirisena.
Farook, who was a member of Minister Rishad Bathuideen led All Ceylon Makkal Congress, contested at the 2010 General Election on the UPFA ticket. He is the seventh government MP to have defected from the UPFA to support Sirisena's presidential bid.
Addressing UNP electoral organisers and members, former SLFP General Secretary Sirisena, said that a national government would be formed after his victory at the January 08 poll.
He said that the UNP and SLFP defectors would lead that government set up for 100 days and other political parties, too, would be invited to join it.
"We will form a national government for 100 days and it will include all political parties which represent Parliament at present," Sirisena said.
He said they would scrap the executive presidency within 100 days.
(The Island)