SL President meets UN Secretary General and US President.
Posted by Editor on September 26, 2013 - 8:05 am
– by Janaka Alahapperuma –
President Mahinda Rajapaksa who is in New York to participate the 68th United Nations General Assembly met with UN Secretary General Ban Ki-Moon and US President Barack Obama on the sidelines of the summit on Tuesday September 24.
Sri Lankan delegation headed by President Rajapaksa held discussions with UN Secretary General Ban Ki-Moon and the UN officials at the United Nations Headquarters in New York. The head of the UN has appreciated the measures taken to set up a provincial council in the North after three decades. Opinions were also exchange on the implementation of the recommendations of the Commission on Lessons Learnt and Reconciliation (LLRC) Report.
General Secretary Moon said it is more important to start the dialogue between the people in the North and the government to resolve disputes and the mistrust. The UN Secretary General also highly praised the steps taken to resettle the displaced and to rehabilitate thousands of former Tamil Tiger caders and child soldiers. He further commended the measures taken to overcome the millennium development challenges of the United Nations. The two leaders have also discussed on the provision of UN aid to Sri Lanka. President Rajapaksa has explained on the measures being taken and the massive rebuilding projects have launched to restore civilian life in the North. He also clarified on the steps to restore peace, unity and reconciliation.
The Sri Lankan delegation included Minister of External Affairs Prof G.L. Peiris, Monitoring MP Sajin Vass Gunawardane, Secretary to the President, Lalith Weeratunga and Sri Lankan Permanent Representative to UN, Ambassador Dr Palitha Kohona and Additional Secretary of the Ministry of External Affairs Mrs Kshenuka Seneviratne at the discussion.
Meanwhile Sri Lankan First Lady Shiranthi Rajapaksa met with Mrs Ban Soon-taek, Spouse of United Nations Secretary-General, Ban Ki-moon inside the United Nations Headquarters in a different function organised for the spouses of the participating world leaders.
During the United Nations General Assembly reception, US President Barack Obama and First Lady Michelle Obama warmly received President Mahinda Rajapaksa and First Lady Shiranthi Rajapaksa at the Waldorf Astoria Hotel in New York.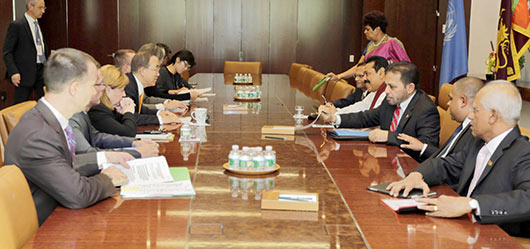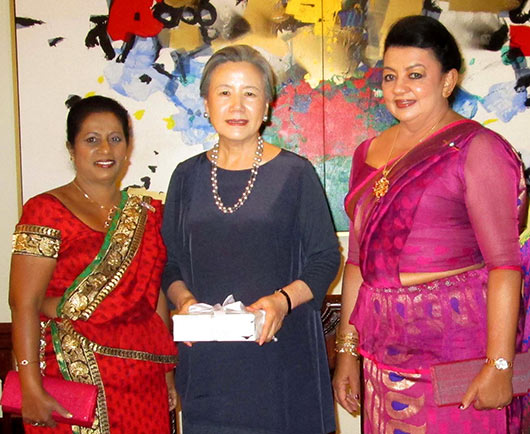 (Pix By: Sudath Silva, Lalith Welivitigoda & White House Official Photo Gallery)
Latest Headlines in Sri Lanka