Sri Lanka drifting towards authoritarian rule – UN rights chief
Posted by Editor on September 26, 2013 - 8:56 am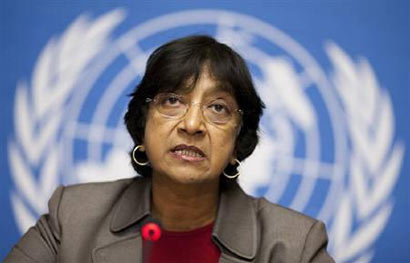 (Reuters) – Four years after it crushed a long separatist rebellion, Sri Lanka may be sliding towards an authoritarian system as President Mahinda Rajapaksa gathers power around him, the U.N. human rights chief said on Wednesday.
The report by Navi Pillay, said the largely Buddhist South Asian state was also seeing a surge of violence against religious minorities – Christians, Muslims and Hindus – while the Colombo government stood by.
Pillay said she had found great disquiet "about the degree to which the rule of law and democratic institutions in Sri Lanka are being undermined and eroded".
She said a newly created Ministry of Law and Order would come under Rajapaksa's direct control, as had happened with the Defence Ministry, and that recent changes to the Sri Lankan constitution had weakened checks and balances on his rule.
She said this year's removal of an outspoken chief justice had eroded the long-standing independence of the judiciary.
The report, presented to the United Nations Human Rights Council, was rejected as "unsubstantiated" and biased by Sri Lanka's ambassador in Geneva, Ravinatha P. Aryasinha, who said it was inspired "by parties with a vested interest".
This was an allusion to Western states which the Rajapaksa government accuses of waging a vendetta against it since its defeat in 2009 of Tamil Tiger rebels in the north of the country amid allegations of atrocities against civilians by the army.
Rajapaksa's administration, which suffered a severe rebuff in elections in the Tamil-populated north of the country last weekend, is highly sensitive to criticism of its human rights record ahead of a Commonwealth summit on the island in November.
There have been calls from international rights groups, echoed by some governments, for the venue to be switched because of what they say are continuing disappearances and killings of opponents and critics of the president.
In an interview with Reuters in Geneva, the father of a Tamil student killed along with five others during the civil war in the northern city of Trincomalee said victims would get justice only via international investigations, which have been rejected by Rajapaksa.
"Sri Lanka is not a human rights country," said the man, Dr. K. Manoharan, after delivering a 50,000-signature petition on behalf of Amnesty International to Aryasinha.
Manoharan said the six students slain in 2006 had nothing to do with the Tamil Tigers.
Pillay spoke of "high levels of harassment and intimidation meted out to human rights defenders, lawyers and journalists" and of "white vans" that picked up dissenters around the country.
The former International Criminal Court judge said inquiries ordered by the Colombo government into alleged atrocities at the end of the war with Tamil Tigers had produced few results.
Aryasinha told the Geneva rights council that Rajapaksa was committed to democracy and reconciliation in Sri Lanka. (Reuters)
Latest Headlines in Sri Lanka