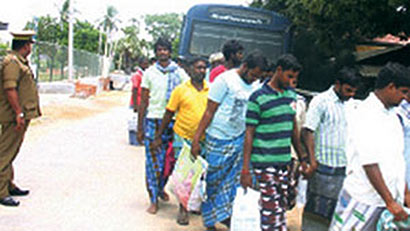 Following an order issued by Sri Lankan President Mahinda Rajapaksa to release all Indian fishermen in custody as a gesture of goodwill to mark India's 68th Independence Day, 74 fishermen were released in Jaffna on Thursday.
Indian Consulate officials in Jaffna told Express that 20 more will be released at Mannar on Friday.
All the 94 fishermen are likely to be repatriated to India by sea on Saturday or Sunday after the Lankan navy and the Indian Coast Guard make the necessary arrangements, officials said.
At present the fishermen are being looked after by the Jaffna-based Indian Consulate General.
The Lankan authorities are, however, retaining the 63 boats they had seized from the intruding Indian fishermen since June.
Sri Lankan President Mahinda Rajapaksa on Thursday called for a permanent solution to the problem of the fishermen of India and Sri Lanka.  The president made this plea when the Indian High Commissioner, Y K Sinha, called on him to thank for releasing all the 94 fishermen in Lankan custody to mark India's Independence Day.
Mahinda Rajapaksa told the Indian High Commissioner that he is "concerned "about the impact of the current situation on the lives of the fishermen, and also the environment, and called for a "permanent solution" of the problem for the betterment of the livelihood of the fishermen and the marine environment.
The Indian High Commissioner told the President that the Sri Lankan government's policies are "very investor-friendly," and that there is a "lot" of Indo-Lankan economic cooperation.
(New Indian Express)