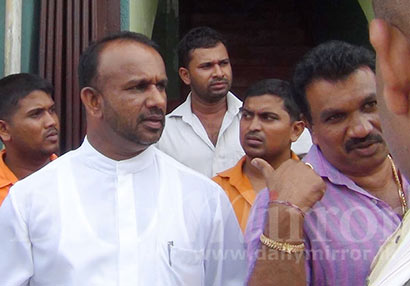 The SLFP Central Committee yesterday decided to sack the UPFA North-Western Provincial Councillor Ananda Sarath Kumara for allegedly humiliating a lady teacher by ordering her to kneel in the presence of students and teachers because she had asked his daughter not wear a short uniform to school.
The Central Committee chaired by President Mahinda Rajapaksa met last morning at temple Trees and also decided not to nominate him for any future elections.
However, Chief Minister Athula Wijesingha is reported to have requested the Central Committee to allow the errant PC member to resign voluntarily and the Central Committee asked Mr. Wijesingha to make sure he tendered his resignation immediately.
PC member Sarath Kumara's behaviour was severely criticised by the SLFP seniors such as Ministers Nimal Siripala De Silva, Maithripala Sirisena and Susil Premajayantha. A government source said they requested President Rajapaksa to take strict disciplinary action against the PC member.
The senior cabinet Ministers had pointed out that this member's behaviour had done much harm to the SLFP and reflected badly on the government in the eyes of the local and international community.
The source said President Rajapaksa had spoken to the victimized lady teacher over the phone to pacify her and tell that the maximum punishment possible would be meted out according to the law and party discipline.
The SLFP Central Committee also took decided to dissolve the Northern, North-Western and Central Provincial Councils this week and hold the polls in September.
It also decided to approve the Electors Registration Special Provisions Amendment Bill today.
"It will not be difficult as all political parties have expressed their consent and the Bill has also gone through the committee stage," the source said.
He said Speaker Chamal Rajapksa was expected to announce the constitution of the Parliamentary Select Committee (PSC) and the nomination of 19 UPFA members enabling the PSC to begin its work immediately and deliberate on the proposals to remove police and land powers from the 13th Amendment to the constitution among other matters.
The Central committee meeting was also attended by Chief Ministers of the three provinces.
(Courtesy: DM Online)