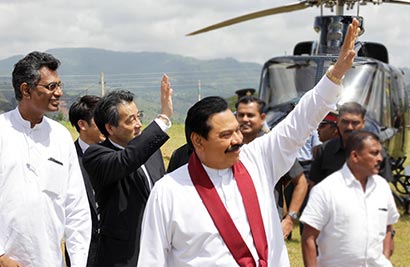 Onlanka News – By Janaka Alahapperuma
(Pix by: Sudath Silva)
President Mahinda Rajapaksa and Japanese Deputy Prime Minister Katsuya Okada engaged in an inspection tour of the 150-megawatt Upper Kotmale Hydro Power Project this morning on 05 May. The power plant project was launched in 2006 with financial assistance from the government of Japan.
The sluice gate of the main dam of the Upper Kotmale Hydro Power Project was declared open by President Mahinda Rajapaksa and the Japanese Deputy Premier Katsuya Okada. The plaque of the project was unveiled by the Sri Lankan President and the Japanese Deputy Premier and after that Jasmine flowers were strewn to the reservoir by both leaders. Subsequently the second and third sluice gates were also opened.
Minister of Power and Energy Patali Champika Ranawaka, said 96% of the construction of the hydro power plant has been completed and that 150 megawatts of electricity will be added to the national power grid.  Upper Kotmale Hydro Power Project is scheduled to finish construction in June 2012. The Minister further said that the project was initiated under Japanese aid of ¥en 37,817 million and Ceylon Electricity Board has also chipped in with over 8.5 billion rupees towards the construction work.
Japanese Ambassador in Sri Lanka Nobuhito Hobo, Sri Lankan Ambassador in Tokyo, Admiral Wasantha Karannagoda, Ministers Champika Ranawaka, Susil Premajayantha, Navin Dissanayake, C.B.Rathnayake, Mahindananda Aluthgamage, Deputy Minister Premalal Jayasekara and several other dignitaries participated in the observation tour.
The 12.9 km long, Sri Lanka's longest underground tunnel of the Upper Kotmale Hydro Power Project was declared open by President Rajapaksa in November 2010. At present the power project generates 75 mega watts of electricity and once the project is completed its full output will add 150 mega watts of power to the national grid.
Japanese Deputy Premier Okada arrived in Colombo on Friday (04 May) for a two-day official visit to coincide with marking 60 years of diplomatic relations between both countries. He is also expected to visit Akkarayan Kulam Tank, Sub Grid Power Station at Anathapuram in Kilinochchi, Dry-fish project in Velanai and Coconut Development Farm in Achchuveli in the northern region of Sri Lanka and several key Japanese funded projects.