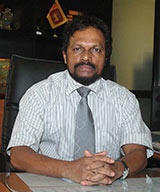 Veteran media personality, Mohan Samaranayake observed that lack of professionalism, ethics and arrogant behaviour of some journalists was hurting the media in Sri Lanka.
He was of the view that if such issues are allowed to prevail, journalists and media may suffer from a decline in public trust.
Citing a survey conducted by a Magazine in Nepal sometime back of the "Most Unpopular Profession" among its readers, Samaranayake stated that readers in that instance had voted legal professionals as the most disliked, closely followed by journalists at number two. He said steps should be taken to ensure that Sri Lankan Journalists do not suffer the same fate.
Samaranayake who is the current Sri Lanka Rupavahini Corporation Chairman in addition to being the President's Spokesman said effective professional media training and media studies will help alleviate such weaknesses and help Journalists face challenges posed by the rapid growth of the sector.
He made these comments in his speech as the chief guest at the inauguration of the Higher National Diploma in Journalism and Media Management Course (2013 intake) conducted by the Sri Lanka Foundation.
Samaranayake went on to say that with globalization media has grown exponentially heralding new frontiers and new challenges. "In this information age Media has a great reach and influence on all levels of society" he added. However, he said that media and journalists should be mindful not to misuse such power but to use it for the greater good of the society.
He said some media using their wide reach and influence have resorted to promoting malignant practices such as promoting violence, sex, slander etc. which may alter behavioural patterns in society in a negative way.Citing a UNESCO declaration on what media's role should be for the greater good of the society, Mr.Samaranayake said that media should promote reliable information, socialisation, debate & discussion, motivation, cultural promotion, education, virtuous entertainment and integration.
Meanwhile, Sri Lanka Foundation Chairman Dr. Ranjith Bandara said his organization among others was now providing higher studies in many fields including media.
He said starting from humble beginnings the organization now has grown exponentially and added that within this year Sri Lanka The Foundation will add another feather to its illustrious achievements by becoming a degree awarding institution in several study fields.
The HND in Journalism and Media Management he explained has been designed to provide a higher level training for the working journalists in print and electronic media.
The course which has NVQ level – 6 status has been designed to cater to the educational and training demands of the present market. It is a fee levying course of 14 months conducted in English on Sunday's. Interested Journalists are advised to contact Senior lecturer Saman Weerawansa at the SLFI. (Courtesy: Daily News)