Southern Expressway opening on 27th
Posted by Editor on November 8, 2011 - 2:24 pm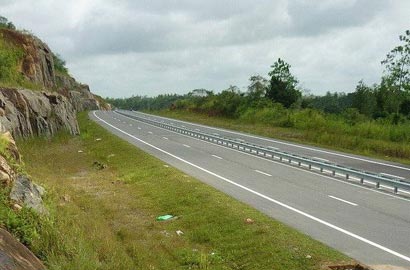 The Kottawa-Galle section of the Southern Expressway is scheduled to be declared open by President Mahinda Rajapaksa on the 27th of this month.
The Southern Expressway is the first expressway in Sri Lanka and it is the longest expressway out of proposed expressway network. It runs from Kottawa to Matara.  The Asian Development Bank (ADB) and Japan Bank of International Corporation (JBIC) are the main funding agencies for this project. Section from Kottawa to Kurundugahahetekma (65 km) was undertaken by JBIC and section from Kurundugahahetekma to Godagama, Matara (64.8 km) was undertaken by ADB. President Mahinda Rajapaksa took a personal and keen interest in the construction of this expressway and made several inspection tours during the time of its construction.
The first stage of the project, from Kottawa to Galle has been completed and it will be opened for traffic by the President on the 27th.  Under the second stage it will be developed from Galle to Matara, and when completed the travel time fro Colombo to Matara will be reduced by more than two hours.  Up to Galle it has 8 intersections and up to Matara it will have 11 intersections.  This will be the first toll charging road in Sri Lanka (niz).
Source: Government News Portal
Latest Headlines in Sri Lanka