Special Police Teams to probe on Tangalle incident
Posted by Editor on December 30, 2011 - 3:18 pm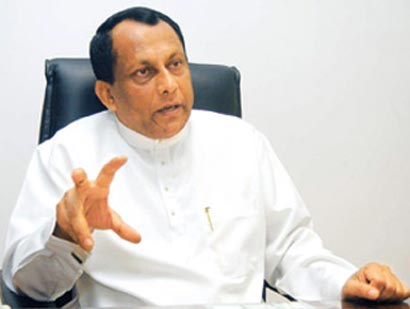 Sri Lanka's Acting Minister of Economic Development Lakshman Yapa Abeywardene addressing a Media Conference at the Information Department yesterday said that the Ministry of Economic Development and the Sri Lanka Tourist Development Authority have worked very hard to promote Sri Lanka's image abroad as a multi-faceted tourist destination and as a result of these efforts there is a steep growth in tourist arrivals as well as in the income earned.
Referring to the recent incident that occurred in Tangalle, in which a British tourist was killed and his fiancée a Russian lady was wounded, the Minister said that this incident in no way affect the tourist industry.  He said that this incident has taken place due to a brawl that took place at a private party, and the Ambassadors of the United Kingdom and Russia have expressed full satisfaction on the action taken by the government following this incident.  The Acting Minister said that the Russian lady is now being treated at a private hospital in Colombo, the Lanka Hospitals, and the Russian Ambassador has visited her and has appreciated the actions taken by the government.
He said that the Defence Secretary Gotabhaya Rajapaksa has taken swift action to probe on the incident and within 38 hours, five suspects including the chief suspect have been arrested. 8 Special Police teams and a group of CID officers are deployed round the clock to further investigate into the incident.  He said that the government will not protect anyone involved in this incident and pointed out that the General Secretary of the United People's Freedom Alliance Minister Susil Prem Jayanth has already issued a statement saying that stern disciplinary action will be taken against any ruling member if found to be involved in this incident.
The Acting Minister requested the media not to blow the Tangalle incident out of proportion and create a bad image for the country but to  make every effort to protect the country's image as the tourist industry is becoming a major revenue source for the country.  He said that the country has earned US.Dollars 760 Million from tourism so far this year and it is expected that the industry will bring in an income of One Billion US.Dollars next year.
The Chairman of the Sri Lanka Tourist Hotel Owners Association Aruna Lokuhetty participating in the Media Conference said that no impact has been created to the tourist sector by the death of a tourist at a tourist resort in Tangalle. He said that due to this incident no tourist has left the country.
The Sri Lankan Ambassador in Russia Udayanga Weeratunge said that he is on a holiday in the country and the Tangalle incident took place on the day after his arrival.  He said he has met the hospitalized lady and the Russian Ambassador and they have appreciated the efforts made by the government relating to this incident.  The Ambassador said that increasing number of Russians is becoming enthusiastic to spend their holidays in Sri Lanka and the Embassy is making extensive efforts to promote tourism in that country.  He too requested the Media to restrain from creating a bad image about the country over the Tangalle incident, and said that these incidents, though unfortunate, have happened in other tourist destinations in the past and can happen anywhere in the world. (Niz++)
Source: Government News Portal
Latest Headlines in Sri Lanka