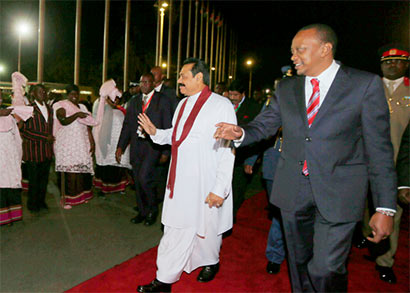 President Mahinda Rajapaksa, currently on a four-day state visit to the Republic of Kenya, and President Uhuru Kenyatta presided over the signing ceremony of eight memorandums of understanding today at the State House in Nairobi.
Before the signing ceremony, two leaders held bi-lateral talks on further strengthening ties between the two nations and enhancing cooperation in a number of sectors, including economic, trade, investment, education and technology.
The (MoU) memorandums of understanding signed today cover the following areas:
Tourism.
Cultural Coorporation.
Coorporation in the field of sports.
Visa exemption for holders of diplomatic and official passports.
Bilateral Trade.
Economic, Commercial and Technical Corporation.
Bilateral consultation.
Establishment of a Joint Commission.
President Rajapaksa speaking at the state banquet hosted by the Kenyan President Uhuru Kenyata at the State House in Nairobi on Friday (13 th) stated that he is the first ever head of state to visit Kenya from Sri Lanka, and that Kenya and Sri Lanka are both home to two great ancient civilizations, dating back many millennia. "Sri Lanka has now entered an era of peace, having overcome the threat of terrorism, which plagued the country for over three decades," said the President and added, "We are also bound by historical experiences, sharing common platforms in the Non-Aligned movement and as members of the Commonwealth."
President Mahinda Rajapaksa and First Lady Shiranthi Wickremasinghe Rajapaksa were guests at the 50th Independence Day celebrations held on the 12th at the Moi International Sports Complex (MISC) in Kasarani on the outskirts of Nairobi.
Minister of External Affairs Prof. G.L. Peiris, Minister of Civil Aviation Mr. Geethanjana Gunawardena, Chief Minister of the Uva Province Mr. Shasheendra Rajapaksa, Monitoring MP of the Ministry of External Affairs Mr. Sajin De Vass Gunawardena and Secretary to the President Mr. Lalith Weeratunga are accompanying the President in this visit.
(Courtesy: President Media)