Having Overcome Terrorism, Now We Stand Undivided – President in Kenya
Posted by Editor on December 15, 2013 - 9:23 am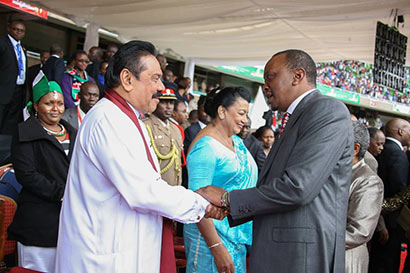 "Sri Lanka has now entered an era of peace, having overcome the threat of terrorism, which plagued the country for over three decades. Now we stand undivided, under one flag, committed to achieving sustainable economic prosperity, to be shared by all communities" said President Mahinda Rajapaksa in his address delivered at the state banquet hosted by his Kenyan Counter Part Uhuru Kenyata in honour of him at the State House in Nairobi yesterday (13th Friday). President Rajapaksa is now on a four day state visit to Kenya.
President's full speech reads:
Your Excellency Uhuru Kenyatta, President of the Republic of
Kenya and First Lady Madam Margaret Kenyatta
Excellencies
Distinguished Ladies and Gentlemen
Ayubowan!
"Habari yako"!
Let me say how delighted my wife and I are to be here in this beautiful city of Nairobi. I am deeply honoured by the invitation extended by Your Excellency, for this state visit. I bring with me warm greetings from the people of Sri Lanka to the friendly people of Kenya.
Excellency, my state visit, which is the first ever to Kenya by a head of state from Sri Lanka is a clear indication of our desire to build upon the already existing close and cordial relations into a strong and mutually beneficial partnership.
I have been touched by the many expressions of goodwill from various quarters, since my arrival in Kenya. The warmth with which Your Excellency has received us and the excellent hospitality and care afforded are indeed a reflection of our longstanding bonds of friendship.
Excellencies, Ladies & Gentlemen
Despite being from two different regions of the world, Kenya and Sri Lanka share many commonalities. We are both home to two great ancient civilizations, dating back many millennia. Our two countries, both lying in the Indian Ocean have rich and diverse natural resources, fauna and flora. Our peoples share common sporting interests, cricket being foremost. We have been connected globally, through ancient sea routes signifying the welcoming spirit and openness embedded in our peoples. rich in values and thinking. We are also bound by historical experiences, sharing common platforms in the Non-Aligned movement and as members of the Commonwealth.
I was struck by several comments in Your Excellency's address at the Fiftieth Anniversary celebrations of Kenya's independence. Your observation that Kenya and indeed the continent of Africa, has come of age and that the collective voice of these nations, based on a rich and mature experience needs to be heard, strikes an immediate chord with the sentiments of the vast mass of humanity represented by the developing world. We in Asia, like the people of your countries, are heirs to the legacy of great civilizations, and we identify in spirit and aspiration with your noble vision for your country, convincingly endorsed by the presence of so many leaders of Africa, who gathered in Nairobi on this historic occasion to demonstrate their solidarity with you.
Fifty years is but a short time in the life of a nation. This is particularly so for countries such as Sri Lanka and Kenya, with our rich histories. Celebrating the regaining of independence from foreign domination has been an important milestone and an opportunity for us to reflect upon the many challenges that we face. In doing so, we are strengthened by our own cultural traditions which must play a crucial role in developing our responses to the challenges we face and in deciding the course we chart for the destiny of our nations.
I am deeply honored by the opportunity to have joined Your Excellency and the people of Kenya on this momentous occasion. My congratulations once again to Your Excellency and the people of Kenya.
Sri Lanka and Kenya also face the common challenges of accelerating economic development and ensuring that its fruits also reach the most disadvantaged sections of our societies. I am aware that under Your Excellency's visionary leadership, Kenya has achieved rapid economic growth and significant improvement in the quality of life of all your citizens.
Today, your country has achieved a high level of development together with inter-ethnic and religious harmony. I share Your Excellency's philosophy that the nation's citizens should be empowered to contribute effectively to the economic growth of the country. This very tenet is encompassed in my policies for economic development of Sri Lanka.
Excellencies, Ladies & Gentlemen
Sri Lanka has now entered an era of peace, having overcome the threat of terrorism, which plagued the country for over three decades. Now we stand undivided, under one flag, committed to achieving sustainable economic prosperity, to be shared by all communities.
May I at this juncture, express our appreciation to Kenya for the understanding and unwavering support extended to my country to eliminate the menace of terrorism in Sri Lanka and in overcoming the post conflict challenges. This, together with Kenya's solidarity with Sri Lanka in international fora, is a manifestation of the deep understanding and friendship we share.
With Kenya, we seek to build a modern, dynamic partnership, having identified several areas for focused cooperation. To this end, we will, during my present visit sign formal agreements and establish the Kenya-Sri Lanka joint commission, graduating our relationship to greater heights.
I am convinced that there is considerable potential for the expansion of economic relations between our two countries. It is for this reason that leading business persons of my country, who are keenly interested in developing partnerships with their Kenyan counterparts, have accompanied me on this visit.
My country is now enjoying rapid economic development, with tourism becoming a major growth sector. The prevalent stable environment for investment provides many opportunities for the business communities.
Excellencies, Ladies & Gentlemen
Our two countries can be effective partners for international peace and stability. We should work to ensure that the fruits of globalization are shared equitably. It is important that global governance is just and meets the aspirations of the developing world. Let us make it a common cause to work towards. I have no doubt that in the years ahead, our two countries will continue to build deeper ties for the benefit of our peoples.
Excellency, with your kind words, gracious hospitality and warm interaction, I will carry with me enduring and fond memories of this state visit. This visit will translate into active cooperation between our two countries and pave the way for an all encompassing relationship. It is therefore with great pleasure that I propose this toast:
to the health, happiness and personal wellbeing of His Excellency Uhuru Kenyatta, President of the Republic of Kenya;
to the continued progress and prosperity of the people of Kenya; and;
to the longstanding close friendship and further strengthened partnership between Sri Lanka and Kenya.
Thank you.
(Courtesy: President Media)
Latest Headlines in Sri Lanka