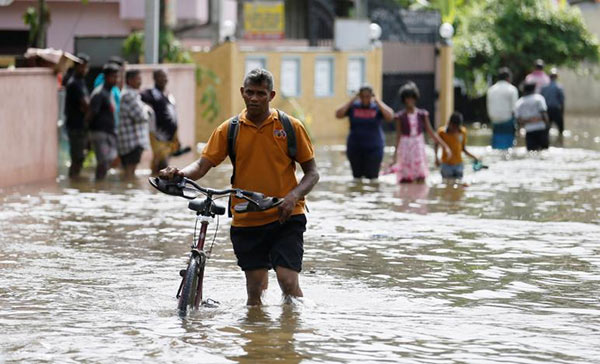 Heavy rains, highways buried under landslides and roads submerged under water are hampering efforts to get food, water and medicines to thousands of flood survivors in Sri Lanka, government officials and aid workers said on Tuesday.
The floods and landslides, triggered by torrential rains in recent days, have killed some 200 people and disrupted the lives of over half million others. Over 80,000 people have been forced into temporary shelters and around 100 people remain missing.
Government and military officials said the army and air force – using boats and helicopters – had managed to reach most of those affected, but persistent rains and inaccessible roads were hampering efforts to airdrop and distribute aid in some areas.
"The military was able to facilitate access to three landslide areas only yesterday. Hundreds of army personnel were deployed to remove the soil mounts from the landslides," military spokesman Roshan Seneviratne told the Thomson Reuters Foundation.
The deluge, the worst Sri Lanka has witnessed in more than a decade, has forced the island to call for international assistance. The U.N., aid agencies, as well as India, China, Pakistan, Australia and Japan, have rallied to offer support.
The flooding has swept away hundreds of buildings and homes and inundated major roads, bridges and vast tracts of farmland – including tea and rubber plantations.
Military officials said they were still trying to access some remote villages in the worst affected districts of Galle, Matara, Kalutara and Rathnapura in the island's south, but said that local communities have come forward to help.
"There were some areas which we could not reach in the first 36 hours. Local people helped a lot in the aftermath of the disaster. There were also committed officials at a grassroots level who managed to cope with the situation," Law Minister Sagala Ratnayake told a news conference.
Aid workers said the focus was slowly shifting from search and rescue to relief and recovery — where people were returning to their homes from the temporary camps and would need help to rebuild their homes and livelihoods.
"They are returning to significantly damaged property where they have lost many of their belongings, where the water may be contaminated and where the crops they had in the ground have been destroyed," said Save the Children's country director Chris McIvor.
(Reuters – By Shihar Aneez and Nita Bhalla – Pix by Dinuka Liyanawatte)