Sri Lanka cbank allows spot rupee to rise 10 cents
Posted by Editor on May 14, 2015 - 8:13 am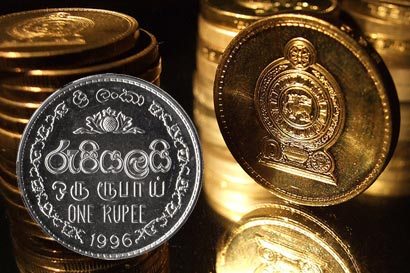 May 13 Sri Lanka's central bank permitted the spot currency to rise by 10 cents after letting it drift down 60 cents in three calibrated steps since April 30, but did not provide any reason for the latest upward adjustment to the rupee.
Dealers however said the domestic currency still faced pressure from rising imports and growth in credit, and that the spot should have traded at levels below 133.50.
"The import pressure is still there. The spot should trade lower, but it did not trade because of the central bank's intervention," said a currency dealer asking not to be named.
Central bank officials did not respond to requests for comment.
Dealers also said the spot rupee did not trade on the day as the banking regulator used moral suasion to prevent deals below 133.40. This intervention ploy, which is widely used by the central bank, reflects concerns over potentially destabilising fluctuations in the rupee.
The central bank allowed the spot to appreciate 10 cents to 133.40 from Tuesday's level of 133.50.
Since April 30, the central bank has through three interventions let the spot rupee fall 60 cents or by 0.45 percent, including a 20-cent cut on Tuesday and a 30-cent reduction on May 6. The spot had been held firm at 132.90 since February until April 30.
Despite the permitted gain to the spot rupee, two-month and one-month forwards ended steady at 135.65/75 per dollar and 134.70/90 respectively as the central bank defended their levels through moral suasion, dealers said.
On Monday, Finance Minister Ravi Karunanayake rejected claims by currency dealers that the rupee was under pressure.
The rupee has depreciated 1.5 percent versus the U.S. dollar this year up to May 5, the central bank said on Friday.
(Reuters)
Latest Headlines in Sri Lanka