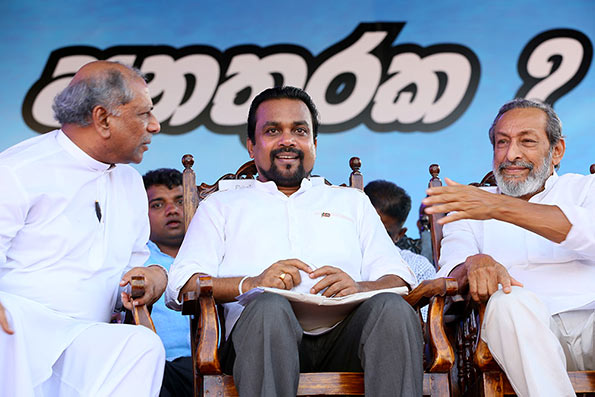 An investigating Committee revealed that a sum of Rs. 91 million of government owned Ocean View Development Company funds, which was under former Minister Wimal Weerawansa during the previous regime, had been misappropriated.
The Financial Crimes Investigation Division (FCID) which commenced investigations on misappropriation of Rs. 85 million in two incidents, submitted a report on the progress of the investigation before the Colombo Magistrate on April 30.
Ocean View Development Company (Pvt) Ltd., Chairman Poorna Chandana Silva made these revelations at a press conference held at the Housing and Samurdhi Ministry Auditorium at Sethsiripaya, Battaramulla.
He said the Committee, headed by retired District Judge D. H. Punchihewa, set up under the new government to find out details about the misappropriation, and also to formulate a new structure for its future, came across an incident where Rs. 14 million has been misappropriated on printing of diaries and calenders for 2015.
The company chairman said after the presidential election was declared, the Construction Engineering Services, Housing and Common Amenities Ministry had instructed the company to pay Rs. 14 million to a Printing Institute in Nugegoda to print the diaries and calenders.
The company had paid the money without obtaining even an invoice for the payment. He added that there was no evidence to prove that even an adequate amount of diaries and calenders were printed.
Silva said the ministry had also instructed the National Housing Development Authority and the State Engineering Corporation to grant Rs. 6 million and Rs. 5 million to the Company to print the diaries.
Chairman Silva said in the second incident a sum of Rs. 71 million had been misappropriated in selling six luxury houses constructed by the Company in Mattegoda and Kahatuduwa.
He said that those houses have been given to close relatives of former Minister Wimal Weerawansa at a very low estimation. He added that those houses have been given on advance of 5 to 10 percent of the total value of the houses.
Silva said the house recipients had only paid the advance and the company too had not taken steps to recover the balance payment. The chairman said Rs. 3.8 million and Rs 3.2 million have been spent on the opening ceremonies of the Kahathuduwa and Mattegoda housing schemes respectively.
He said during the last regime Rs. 6 million was paid to 12 persons attached to the company and released them to work in two institutions under the Company. However, there was no evidence to prove those people worked in any of those institutions except for one person.
The chairman said that it was revealed that those 11 persons were employed full time in the former minister's political affairs.
National Housing Development Authority Chairman Lakvijaya Sagara Palansuriya and member of the Investigation Committee Attorney-at-law Dinesh Vidanapathirana also participated at the press conference.
(Daily News)